Be Inspired.  It's the perfect slogan for the 2014 Antiques and Garden Show Nashville, taking place February 7-9 at Music City Center, a sprawling new convention hub.  With over 150 antiques exhibitors from around the country, and 5 gardens from local designers, there is inspiration at every turn.
There's an official competition going on, but these are my picks for Best in Show: 2014.
That most of them are local is a coincidence. I swear.  Nashville is that good, y'all.
Best Garden in which to spot the fictional Braverman family from NBC's Parenthood goes to:: Poise and Ivy
Poise and Ivy. Isn't that a great name for a southern landscape company? Genius.
They used a variety of lettuces in raised boxes as a border, succulents as a centerpiece, antique doors as gates and added a mix of indoor furnishings for a casual vibe.
This is how all warm weather dinners should be spent: Outside, Napa style. Pass me the wine and I'll pass you french bread and triple cream brie.
What's for dessert? I'm feeling blackberry cobbler for this spot.
Best Booth for mischief, magic, good times and bidding your wallet a good day:: Garden Variety
Owner Jeanette Whitson's sense of whimsy and attention to detail pulled visitors in and kept them there.
She earned the log jam with a large, well organized and cohesive collection of vintage and antique finds.  (Note to 2015 organizers: You might want to put her towards the middle next year.)
As evidenced in these photos, Jeanette really has an eye for weathered patina…
And the downright fabulous:
The vintage Teardrop Travel Trailer is perfectly restored.
This little gem is so lux, I can see Mr. and Mrs. Carter taking Blue Ivy backyard glamping in it.
A seriously chic mobile bedroom, bar and library. What more could one ask…Oh, Bey, where did you put the vermouth?
You can tour Jeanette's place in this gallery at House Beautiful.
Best Structural Garden that needs a home:: Anne Daigh Landscape Architect, LLC
I mean it needs a house.  Here's the thing.  Anne already designed the garden, now you need build a residence to match.
I think she would pair up well with Dallas architect Bob Borson.  Look him up.  Their aesthetics are simpatico.
As a matter of fact, I think they are meant to meet, so I'm going to tweet Anne's info to Bob. That way, they'll both be ready when you come calling.
Best Lighting I mean variety of shiny things that aren't diamonds:: Artifacts of Nashville.
When I say variety, I mean it.  The pieces they curate come from all over the world.  I think the guys from Artifacts have an incredible eye for beauty, but not a defined style.
Unless Class is considered a style.
They segue from French delicacy to Italian Murano heft…
…And back with ease.
They also win the prize for surprising me with something I've never seen:
Artifacts specializes in unique finds and updating old fixtures for today's standards, but I don't know if they made these glass block pendants or reworked them.
They are really special in person.  I wish I had a spot/client for them.
Best Incitement of The Seven Deadly Sins:: Crescent Worth Art and Antiques of Lake Forest, Illinois.
I pulled off lust, greed and envy with ease and aimed for sloth while staring at it without moving.  I might feel pride in owning it, wrath if you did, and gluttony if it was edible. I'm sure they had other goodies in their booth, but didn't see them,  just $$$ Fortuny.
Like Artifacts, Crescent is in serious need of a website, so if you want to buy from them, I guess you'll have to go old school and call.
If you do, please tell them who sent you!
Best of Gardens, Best of Entertaining, Best of Design, Best of the Best, Best of Everything:: Perennial stunner, Cheekwood Botanical Gardens.
Not eligible for an award from the public or the jury, Cheekwood is a beneficiary of proceeds from the Antiques and Garden Show.  They could've sat back on their laurels and accepted donations, but they didn't.
They raised the bar.
The talented team at Cheekwood paired up with event planner Amos Gott and delivered glamour on steroids.
In Water.
The invitation reads White Tie and Scuba Gear.
I love a fertile imagination, don't you?  It is a thing of wonder, especially when surrounded by a fertile landscape!
I caught Friday's lecture from fast-talking author and Countess, Lady Carnarvon of Highclere Castle–yes, of Downton Abbey fame, who was artfully introduced by my design idol, the always delightful and talented Honorary Chair Charlotte Moss.  (If you love royal history, put Lady Carnarvon's books, Lady Almina and Lady Catherine on your must read list.)  Saturday's speakers included Alexa Hampton, Mario Buatta, Nina Campbell and Jennifer Boles.
There's still time to catch the show tomorrow, and a lecture titled Finer Things in Life…um, sounds familiar!–with Master Gardener John Carloftis and the authors of Canal House.  Tickets are $20.00 and available at the door.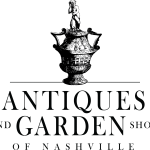 February 7 – 9, 2014
Friday             10 a. m. – 8 p.m. 
Saturday       10 a.m. – 7 p.m.
Sunday           11 a.m. – 5 p.m.
About the Antiques and Garden Show of Nashville
The Antiques and Garden Show of Nashville brings together top interior designers, landscape architects and purveyors of fine furnishings for a three-day event that showcases the elements – indoors and outdoors – that make a house a home. The charitable event was founded in 1989 by Connie Cigarran and the late Sigourney Cheek. It is produced in partnership with the Economic Club of Nashville, formerly The Nashville Exchange Club, and over 200 volunteers. Since its founding, The Antiques and Garden Show of Nashville has raised $5.5 million for Cheekwood, as well as many Nashville charities supported by The Economic Club, such as Big Brothers of Nashville, Fannie Mae Battle Home for Children, Martha O'Bryan Center, the W.O. Smith Nashville Community Music School and the YWCA of Nashville.