Forgive me, Father, for I have committed the cardinal blogger sin.  It has been a month of Sundays since my last – new nerd word alert! – Postfession.  I'd say I've been too busy to write, but that would be a lie.  I'm constantly writing in my head.  My mind is a whirling dervish of activity, spinning round and round, churning out ideas, taking in information and always on the lookout for the next right thing.
This month, that thing is being aware of a renewed sense of awe and wonder of the beauty that surrounds us and for the capacity of the human spirit.  
I wanted to take a break from design talk and use this time to share with you the gratitude I feel for the people who are most connected to my heart, my children.
For the most part, I've kept my family under wraps here – they didn't ask to be a part of my blogging adventure – but they are such a huge part of my life, it feels insincere to leave them out.  Especially right now.
Let me explain.
At some point in the 80's, I gave birth to three perfectly imperfect human beings.  The first one came alone; the younger two were a package deal, born way too early and very ill.  I rode home from the hospital five days after they were born – leaving the twins behind in critical condition in the NICU was soul crushing – and I recall thinking, wishing, hoping the first thought I'd had upon hearing there were two babies stayed true:
And then there were three.  
I felt so powerless back then, but I got everything I wished for and more.  Parenthood is the best hard thing I've ever done.  This is one of my favorite photos of my children when they were little.  I wanted to freeze time right here:
That frozen in time thing didn't happen, but I'm extra grateful for the accomplishments of George Eastman.  Through the magic that is photography, it feels like yesterday, today and a hundred years ago at the same time.
(Don't judge the hair wear, peep peeps.  Ginormous bows were ubiquitous in the '80s.  My bad for giving in to trends.  Sorry, girls.)
Having twins is like conducting a continuous science experiment on nature vs. nurture, male vs. female, genetics vs. environmental. I'll let you know when all the data I collected is compiled…yeah, right…but here's what I've learned so far: Humans are a complicated species, much too diverse to be typed or labeled.
Anyway, time marched on, my children grew up and set about creating their own grown up lives.  As they changed and expanded, I did too; sometimes in unexpected ways, but most often in the usual ones.
Claire has a job that even she can't explain, but I do know it takes six people to cover what she does when she's not there; Michael is an engineering student and captain of his school's Formula One design team; Caroline is putting her childhood passion – sugar – to good use by mastering the art of sweet treats using old school methods.
Caroline also works her butt off raising two human beings.
Yep.  It's true. I've avoided using the term grandmother here for three years, but must finally concede it is what I am.  Not that I'm hiding it, I've written about it before, it's just not my favorite word.  (I have the best least grandmotherly name ever.)  It is, however, my favorite role right now and the reason I've been so quiet this month.
I am beyond grateful to Caroline, who gave me the gift of presence at the birth of both of her sons.  Standing at the business end of your daughter's baby-maker is, um, an eye-opening experience, to say the least.  Sometimes, I wish I'd kept them closed.  I kid, sort of.  It was an absolute honor to witness their arrival and it left me with a renewed reverence for the awesome power of the female body and of how much strength resides in my daughter's little body.
An aside: If you have the opportunity to witness birth in any form, I highly recommend saying yes to it. Ponies, puppies, people.  Same, same.
Coolest part?  My mother was in the room when the first one was born.  Four generations existing together in one incredible moment in time, each a witness to the other's being.  In this family, there are lots blessings in that way.  My children met their great-great grandmother and, although they can't recall our five generation gatherings, I treasure the memories.
The boys are moments away from turning six and two, and there is awareness that life is short and we're creating our legacy with each new adventure, so I make an effort to be fully present with them:
Their personalities are as opposite as night and day, but both are immensely lovable and I celebrate their differences.  As with my kids, I find myself wishing time would slow down, take a breather, stand still.  Again, no luck in getting my wish thus far, which is the main reason I have more than 30,000 images on my computer.
Here's how you know I went overboard with the photo thing:  At 2 1/2, the oldest looked me square in the eye and said, with a clenched jaw,
"No. More. Cheese."
Whatever, little dude.  Your grandfather doesn't have any baby pictures and I hate that for him so, someday, you'll thank me. Maybe.
This is the point where I ran astray of the blog gods:
Near the end of September, I headed south for the weekend to attend a gourmet feast baby shower celebrating the impending arrival of my oldest daughter's first child, my granddaughter.  I ended up staying for 2 1/2 weeks…not at the shower, although the food and the company were ah-mazing, but in Claire's guest room.
Custom brunch menu?  Decadent and delicious.
Thrown by Claire's uber stylish friend Kimber, gray quatrefoil with a splash of pink graced everything from invitation to menu to favor to cake, the event was a beautifully designed success.  I am grateful Claire has such loving and kind women in her life.  Oh, and beautiful.  Did I mention her friends are stunners?  It's true.
Held at Rosebud, a hip locavore restaurant in the Morningside neighborhood of Atlanta, the table was decorated with books and photos for Claire to take home.  Guests received bottles of OPI nail polish in It's A Girl pink.  (Take note of the sonogram.  It's the only shot of the baby you'll get.)  Kimber didn't miss a detail.
Claire's friend Claudia, a rocking working mom, makes delectable goodies on the side.  For fun.  She created an adorable cake for the shower.  It was banded in the middle by gray quatrefoil ribbon, the only part I didn't eat.  I'm going to have to climb Machu Picchu to burn it off.
Still on a Blogger Retreat collaboration high, I loved brainstorming with Claudia about making money from her hobby and using it to fuel her family's travel adventures.  She's got a plan now and I'm excited to see where she goes next!
If you're in the Atlanta area and looking for a custom cake for your next event, I highly recommend hiring Claudia.  Let me know you're interested, and I'll hook you up.
I went for the shower, stayed because Claire was in the early stages of labor and I didn't want to miss being in the room, and came home with a beautiful granddaughter.  Well, not literally, although I really wanted to.  Getting out of Georgia with her in my suitcase would be harder than walking a tightrope over the Grand Canyon in a straitjacket with no net.  It would take mad Wallenda and Houdini skills.  She is a beautiful, snuggly spirit but, man, are her parents fierce!
As I watched this tiny baby come into the world, honored by her parent's generosity in letting me be a witness, awed by my daughter's strength and determination in following her natural birth plan, and grateful for the midwives and nurses who cared for my baby as she delivered her baby, this thought crossed my mind again and again:
And then there were three.
There was one bit of unfinished business left from the shower.  Kimber gave everyone I Hope cards to fill out.  The other guests dutifully filled theirs in with touching words and wishes.  I left mine blank.
The hopes and dreams I hold for my children and grandchildren are too big to fit on paper, so I send them out to the universe on a daily basis.  Condensing them down to a few words is challenging, but let's give it a go.  

To my three and their three: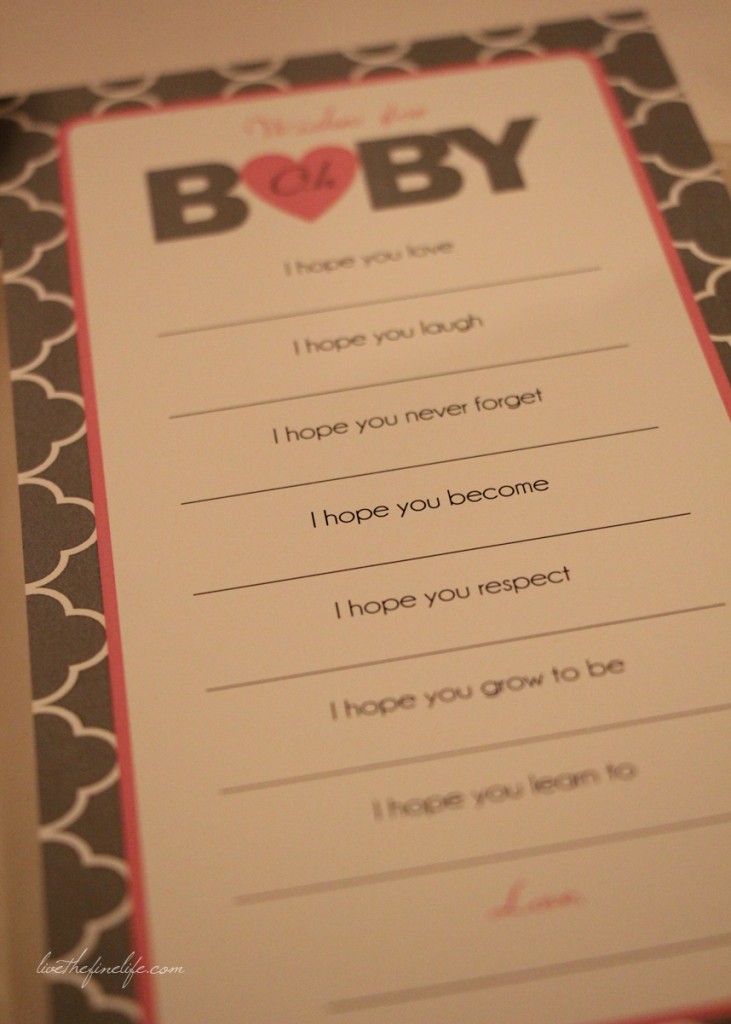 I hope you love deeply, even though it might hurt sometimes.

I hope you laugh with your whole heart.
I hope you never forget how much you're loved.
I hope you become the best version of YOU and only you.
I hope you respect yourself, your parents, and your path.
I hope you grow to be content.
I hope you learn to follow your heart and choose joy.
You guys are my heart and joy,