If the copywriting overlords are correct, a snappy headline is the fastest way to get readers to *pay* attention. Well, my SEO tanked and I lost my SERP when I changed servers, but you found your way here in spite of that. Now we're both painfully aware that lady balls and vaginas are your *price,* so maybe the overlords are on to something.
The vagina is like a magician and lady balls are the hat that holds the rabbit. No. That's not right, the uterus holds the rabbit, unless you're talking about a different kind of Rabbit, then it becomes the vagina's responsibility, but we're talking science today, not sex.
Sort of.
If you don't have the basics of female anatomy down yet, you should probably get off the internet and go talk to your mom, or maybe a little kid. Although the internet is a great place to see sex, it's possible to see a whole lot more than you bargained for.
I learned everything I needed to know about sex when I was nine, from my worldly five year-old cousin. She was spot on with her facts in the case of Birds v. Bees, but didn't teach me a darn thing about the interior workings of my lady business, so I guess that means I'm the one who strayed off topic this time.
My bad.
This is my then five year-old cousin's mom, aka my second mom, aka my aunt. She was one hot tamale and this is how I choose to remember her:
I miss her. She wanted to be my first professional paying client and she got her wish. It was a joy to help her create the home she dreamed about. It wasn't a labor of love, just plain old love.
I had more aunts back in the day, five to be exact, but now it's down to one and she's sick.
Wait, what? Did I forget about lady balls and vaginas? Are we through with the fun stuff?
Nope. It's all related. Literally.
My mom is the 7th of 8 kids; kids who were dealt a wicked hand in the genetics department. Don't get me wrong, they're all good looking people, they just have one really ugly gene. When it's bad, it's very, very bad. It either grabs you by the boobs or the balls. Jerk.

Not you, it.
In my annual SEPTEMBER IS OVARIAN CANCER AWARENESS MONTH BUT NOBODY KNOWS IT rant/meeting/spiel, I take it upon myself to share a bit of my family's story. This year's tale isn't pretty. I wish it were fiction.
My mother's lone surviving sister has breast cancer and, after a mastectomy and loads of radiation, recently learned it has spread to her bones. Doctors are fairly certain it landed in her boobies instead of her lady balls because she has 7 kids. (The theory is that pregnancy suppresses the hormones this type of cancer feeds off of.) There's nothing they can do for her at the moment, the radiation interferes with healing her latest surgical wounds, but hopefully they'll be able to treat her again soon.
This summer, two of my cousins were diagnosed with reproductive organ cancers. One is 41, with ovarian, a wife and mother to young children. The other is in his 50s, with testicular cancer that metastasized to the brain. I can't yet say both are a direct result of the ugly gene, but we have lost so many that you have to consider the possibility.
I'm not a doctor or a scientist, but my noggin does hold this tiny bit of experiential anatomy knowledge: Lady balls and man balls start out one and the same. When X and Y chromosomes sort themselves out in utero, about halfway through a pregnancy, the balls either sneak out through two small slits in the abdominal wall to drop down and become testes or they stay inside, pretty and safe, to become ovaries. This is what leads me to wonder if my cousin's testicular cancer is related to our mutant ovary issue.
I also know this: Recently, news outlets ran with the results of a study claiming that CA125 levels might be the **magic** early detection bullet doctors have been searching for. In my family, this doesn't hold true – the only time our CA125 levels elevate is in the later stages of the disease – so I'm inclined to get my info from the experts.
Pap smears aren't considered an early detection tool either. Just because the vagina and cervix guard the door to the lady cave, it doesn't mean they have the key.
That means you need to bring out the big guns and arm yourself with knowledge. Mixing in a lot of metaphors here, aren't we?
Every year, because I can't remember where I put it the last time, I go to the CDC's website and commit a crime by stealing this pdf for you. It would be nice if you read what I risk going to a federal penitentiary for. You'll get to see some lady balls and a vagina, and hopefully you'll leave this site more aware of what to look for and where to get your information.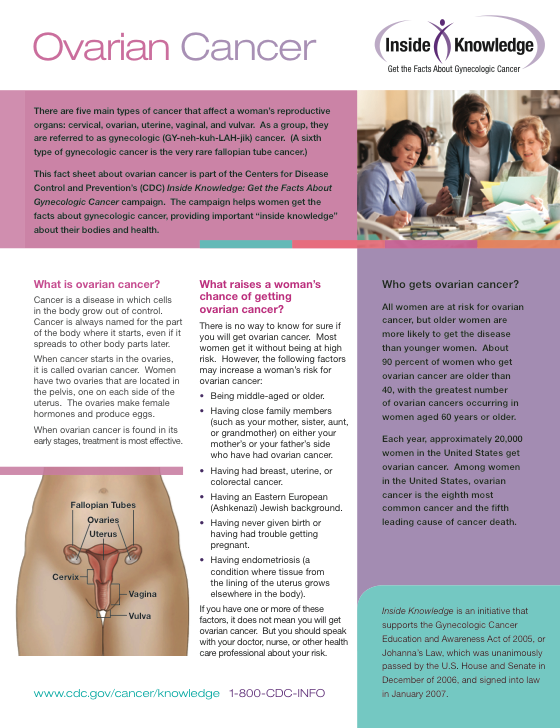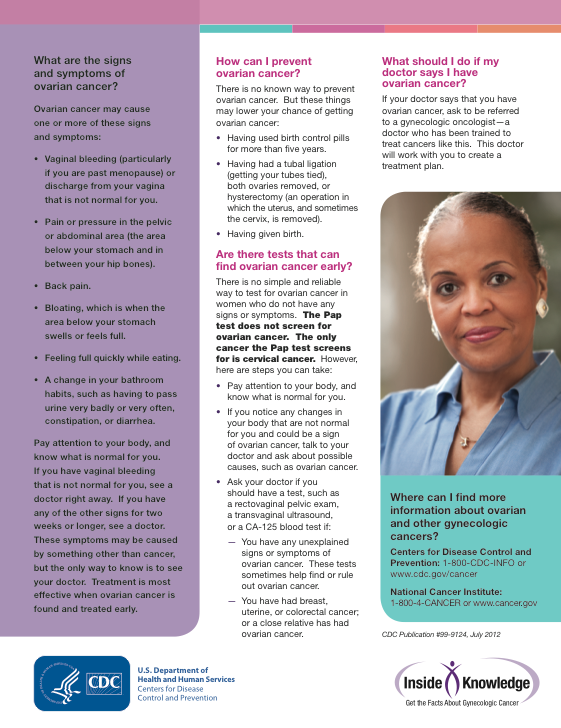 Hey. Since I stole this for you, will you do a solid for me? If you do prayer, send one out for my relatives. I don't give two shits about who you pray to, I love you for doing it. If you don't pray, then hold a good thought for them and go get checked out by your GY-neh-kuh-LAH-jik doc.
If you get felt-up I mean get a check-up because of reading what I've shared here, my time spent in the pokey wearing Maxi-pads as shower shoes will be worth it.
Here's to a clean bill of health,
Kathy