I finally sat down to watch the 2012 screen adaptation of Les Misérables and, along with the onset of Fashion Week, it served as a reminder of a near perfect trip to New York. It's a true story I've been meaning to tell you for a while, about how I went from haute to humble in the blink of an eye and where I learned not to act too big for my britches…literally.
Buckle up, y'all.
It was the '80s. The trip was a grown-up getaway with the company Hubs worked for at the time, and the itinerary required a grown-up wardrobe. I agonized over shopping for and packing all the right things.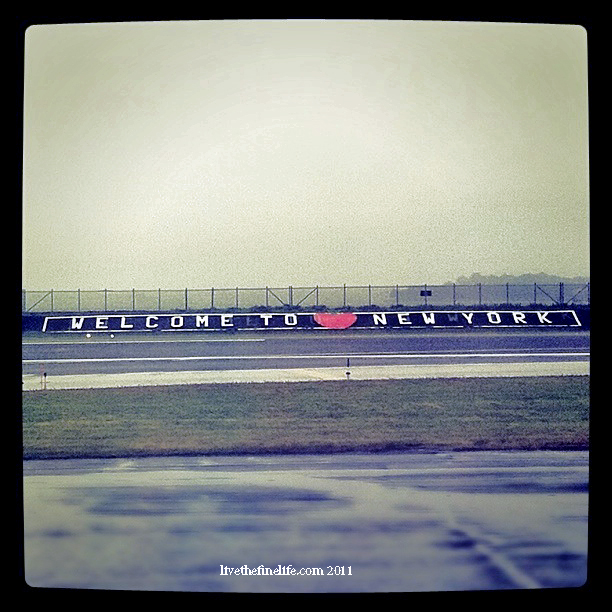 To say I overpacked is an understatement, not about the volume of my suitcase, but its contents. The only credible explanation to offer is this: I was a young mom with 3 kids under the age of 5 and the trip offered a sorely needed escape. I was…let's say, overeager.
Our first event was an in-hotel dinner requiring business attire. I chose wisely that evening, wearing a white Jacquard blouse with a black pencil skirt and a wide black belt. I'm short-waisted so maybe the belt wasn't my best idea but it worked out okay.
The second evening was magic from start to finish. Our first stop was the theatre. The company Hubs worked for has some international mojo, so they were able to score incredible seats for a Friday night performance of the hottest new show on Broadway, Les Misérables. I have no recollection of what I wore, but can tell you every other detail about that night.
Count yourself lucky to get the highlights.
Les Misérables was in its first run, with the original London cast, at the opulent Broadway Theatre. The memory of its exquisite chandeliers and lush red velvet seats is still strong. Unsure of what to expect from a musical production of the Victor Hugo classic, the West End cast enchanted the audience with their pitch perfect performance.  It was divine and inspired.
We were given Ca$h Money and free time for dinner on our own that evening, so we doubled up with a great couple and decided take our chances on finding a table at one of the hot spots of the moment. We walked out of the theatre and, as we were trying to hail a cab along with the rest of the throng, a man approached us about hiring his car instead.
Score! His price was the same as a taxi. The car, the weather and the evening seemed like a perfect combination, so we gleefully hopped in.
This was our ride:
I know, right?  That's what we said.
We pulled up to the original Russian Tea Room in our gorgeous car without reservations. Again, literally, but metaphorically too. Arriving in our super luxe automobile, we looked and felt like somebody. To our delight, another party cancelled right before we arrived, so we ended up in a prime red leather celeb watching booth.
I can't recall every famous face we saw that evening…Sidney Pollack was one…but can happily report the Beef Stroganoff and imported vodkas were to die for, and the year round holiday decorations only added to the surreal atmosphere of the evening.
The last customers to roll out of the restaurant – We. Shut. It. Down. – we walked the long way back to our hotel, talking and laughing the entire way, enjoying the last few moments of our magical evening.
I planned to spend the next day touring my favorite spots in the city with the Mr., but it seems while in a Les-Miz-stroganoff-vodka-induced haze that evening, I'd agreed to attend an entirely different type of outing the next day.
Maybe rehab was a better idea, but I digress.
One of our theatre/dinner companions was a PGA player and golf pro who invited us out to the 'burbs to watch some of his friends play the third round of the Westchester Classic (now the Barclay's).  Straddling both Rye and Harrison, NY, the Westchester Country Club is swank:
It's a lovely spot, for sure, but my sights were set on Barney's or brunch or the Met.  The one contingency I hadn't packed for was a golf tournament.
Would you?
I put on a pristine white cotton '50s-style dress for my date day with the Mr.  It has a fitted bodice, a full circle skirt and detail on the shoulders.  A vintage hound back then, it was love at first sight when I spied the brand new dress in a beloved old style.  I still have it.
The forecast called for scattered showers and a little drizzle, so I paired the dress with the only suitable-for-a-golf-outing shoes I'd packed, a pair of fresh white Keds and the '80s version of bobby socks.
Don't judge. It could've been worse, especially considering the decade.
My new dress looked a lot like this vintage one but, you know, in white:
With my heart bent on exploring one of my favorite cities, I was less than thrilled to find myself in the suburbs, much less on a golf course.
Que sera, sera.
Arriving at the club, it was surprising to see how many celebs were at the tournament.  It seemed like all of NYC was at the WCC.  Who knew so many famous people were golf nerds?
I wasn't expecting a fashion show either, but Bill Cunningham recently made street style photography all the rage, through his work for the New York Times, and copycats were everywhere.  A photographer for a major New York daily stopped me and told me that the paper was running a feature on Golf Tournament Style the following Monday, and asked if he could submit my photo.
My first reaction was golf has a style?  The second was an enthusiastic YES.  You would too.
I posed for a few shots, then rejoined my companions to head to the practice green, where Jack Nicklaus and Seve Ballesteros were warming up.  I might've felt a little a lot smug.
The area around the green was packed with Jack's faithful followers, 20 to 30 deep.  The Mr., the golf pro and his wife found a sliver of space in the back to watch him through.  Since I was more of a Seve fan, unibrow and all, I decided to walk around the crowd to the other side of the green.
It began to rain, so I popped open my umbrella to keep my winning look from wilting.  After my impromptu photo shoot, I felt entirely too cute and special, and was looking to see who was looking, instead of looking to see where I was going.
I thought I was haute hot hawt.
A perfect storm, no pun intended, ensued:  Precipitation + an elevated green + a white dress + shoes with no tread + an attitude.  It was an open invitation for Karma to set me straight.
As I stepped around some spectators, my footing faltered on the wet grass.  I couldn't get any traction from the shoes.  As I went down the 20 foot embankment, that full-circle dress went up over my head.  I slid all the way down the hill with my underwear acting like wax on a surfboard.
Swoosh!  In a flash, I had green underpants and a red face.  My dress, however, was spotless.
I had two choices, die of embarrassment in front of all those Jack Nicklaus fans or, you know, not.  I gathered myself up, laughed it off, left my fashionista attitude at the bottom of the hill and enjoyed the rest of the day.
I never bothered to check if my outfit made the newspaper.  I already made a splash.
Or maybe it was a splat.
Whatever.  It only took  5.4 seconds of slipping and sliding to get over my hot-mess haute-ness and that was all the news I needed.
Anyway, my 20-something-self walked away from that golf tournament with grass stains on my lady drawers, my sense of humor and dignity still intact, and the equivalent of a year's worth of therapy for free.
{{empathetic *if you've fallen down a hill in front of a butt-load of people gathered around a golf green* hugs}}