Designer Phoebe Howard's master suite at the 2013 Southern Living Idea House is full of light.  It's also filled with great ideas you can use in your home.
The suite is located in the Main House, one of five structures on the property.  It includes a bedroom with windows on three sides, a vestibule to the bath, a large free standing tub and separate shower, a walk in closet, and a sitting room.
The bedroom has windows on three walls with access to the rear porch.  Porches are a big part of this plan, covering 2800+ square feet.  In a space filled with this much natural light, color takes on a new role.  Howard gave the room a Swedish feel with light blue walls, creamy finishes and casual fabrics. The furnishings are from Mr. and Mrs. Howard, the wall color is Olympus White from Sherwin Williams and the fabric for the shades is Crete in Whitewash by Cowtan and Tout.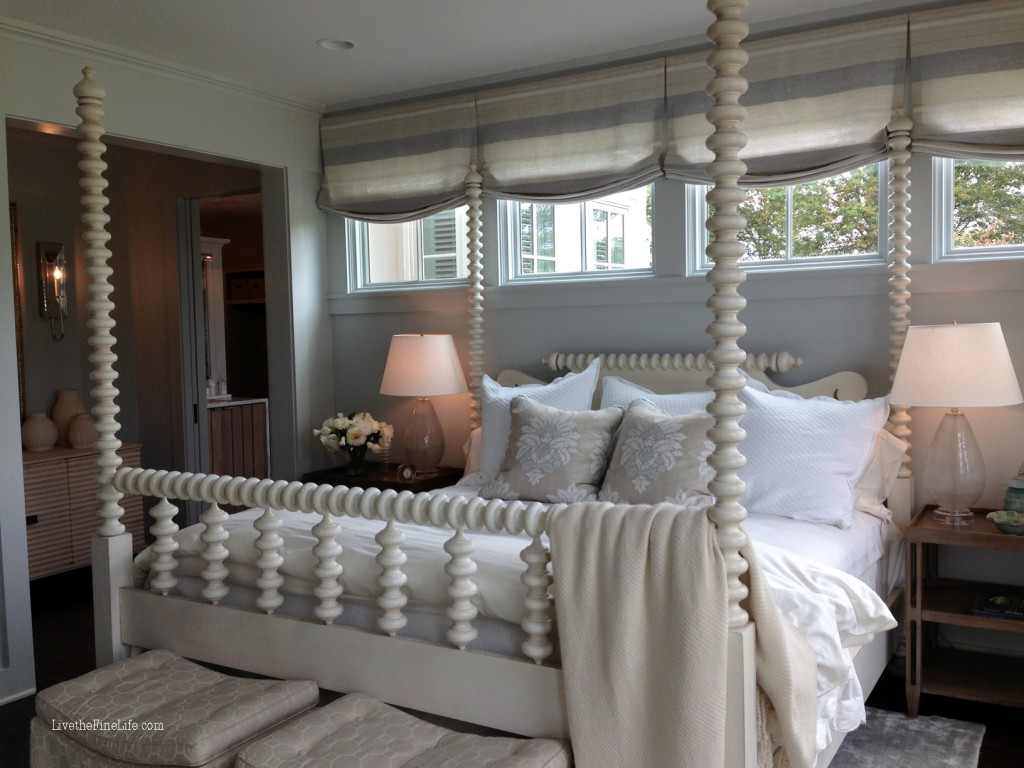 Howard tied the windows together by using the same stripe in draperies for the full length windows along the side wall.  Bedding comes from the Southern Living Collection and Peacock Alley, while throw pillows in Buckland from Cowtan and Tout add a touch of pattern to the room.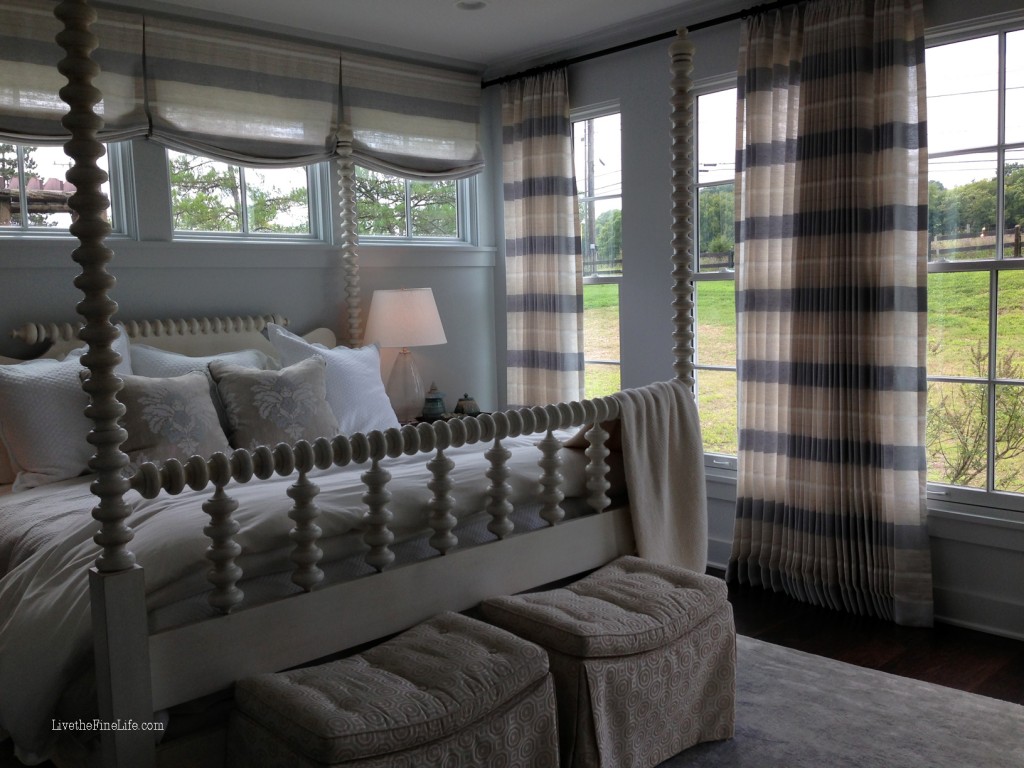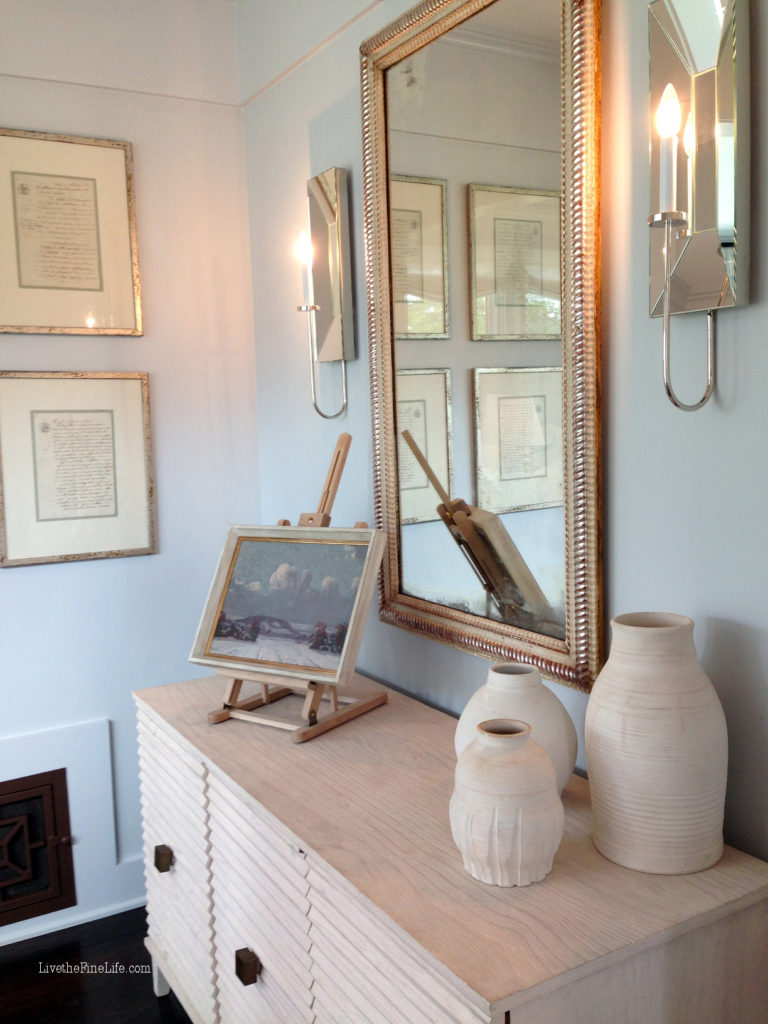 The artwork and accessories used in the Ante Room between the master bedroom and bath are available through Phoebe's retail stores, Mrs. Howard, the chest is through Sherrill and the lighting is from Circa.
Howard floated the custom, limed pine sink cabinets in the bathroom, hung resin mirrors and used picture lights in lieu of standard bathroom fixtures.  (I love the idea!)  The fixtures are all from Kohler.  The floor isn't my favorite – it reminds me too much of the 70s –  but if you're interested, it is Andy Fleishman's Neo Barcelona, available through Ann Sacks.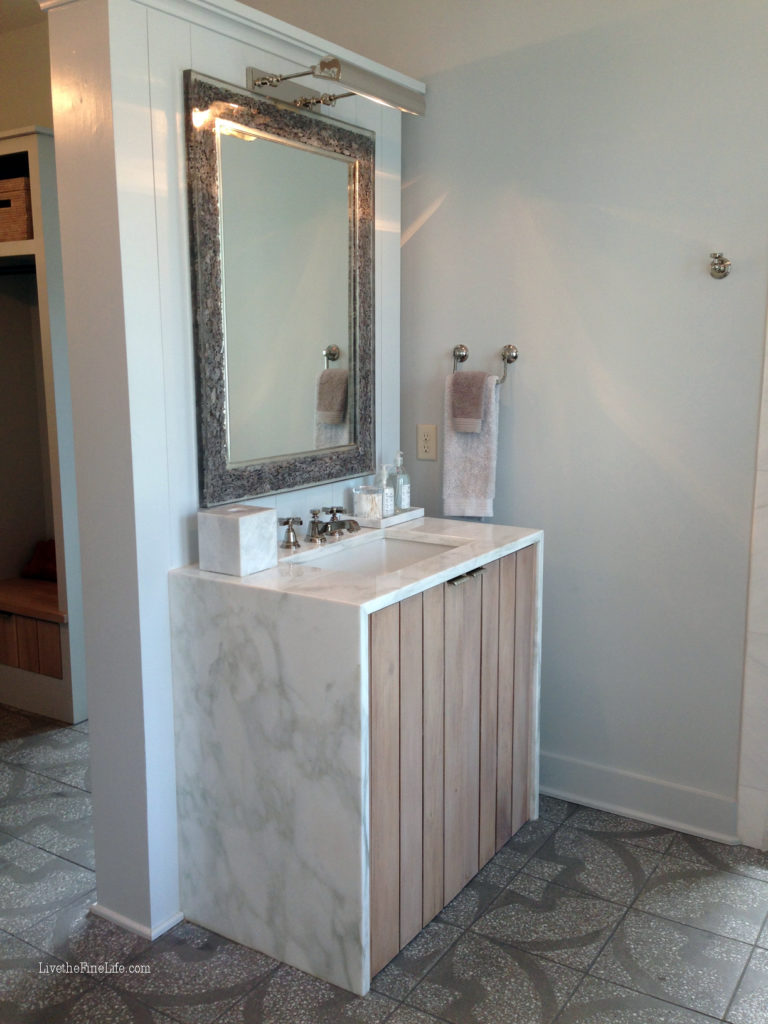 Because the house is going to be used for a Bed and Breakfast, the closet is outfitted to function like a quasi-locker room.  The paint is the same blue as the bedroom, but it reads very green in this photo I hijacked from Southern Living:
Down the hall, the study is a study in Palm Leaf green, with walls and trim in the hue from Sherwin Williams. The furniture is Mr. and Mrs. Howard, natch.  Throw pillows in Oakham are from Colefax and Fowler, antique tables from Atlanta's fab Parc Monceau, lighting from Circa and a landscape by Clay Wagstaff complete the look.  I know it's a whole lotta green, but in person it is very – surprisingly – cozy.  I wouldn't say it if it wasn't true.  I told you I don't love the bathroom floor, didn't I?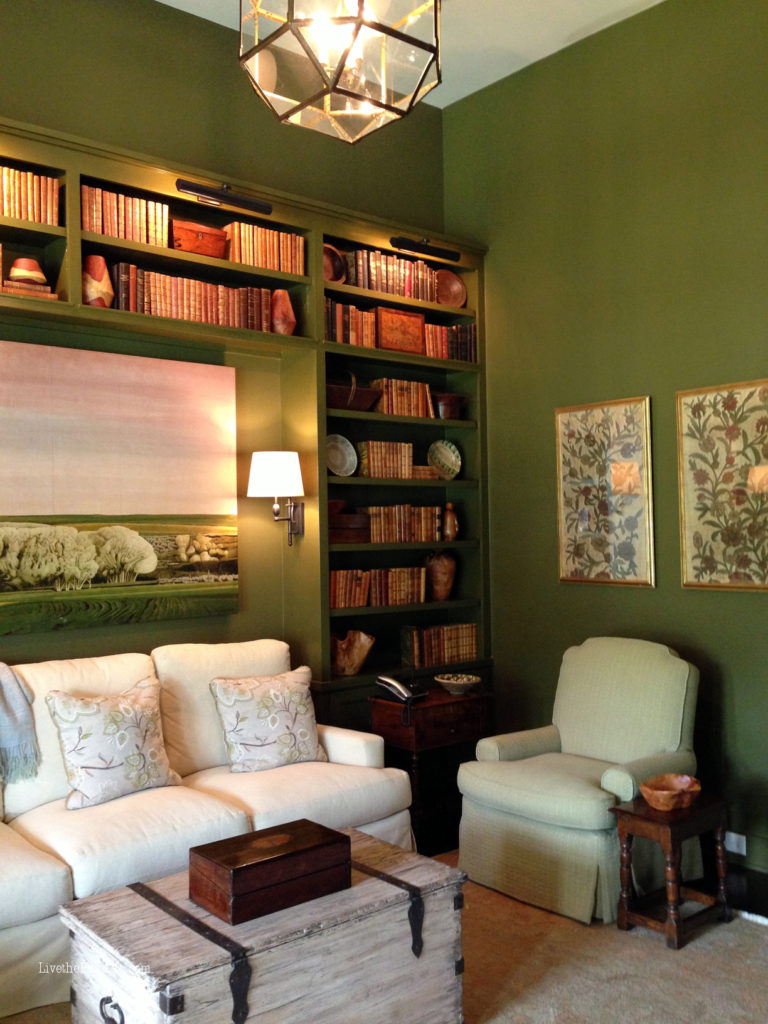 It's so…green and…enveloping.  (Enveloping is a good word isn't it?)  Like one of those great fuzzy blankets from Brookstone, but in, you know, this color.  I'm surprised by how much I liked it.  Honest.  The soaring ceilings, and light tones in the fabrics and rug, keep it from being overwhelming.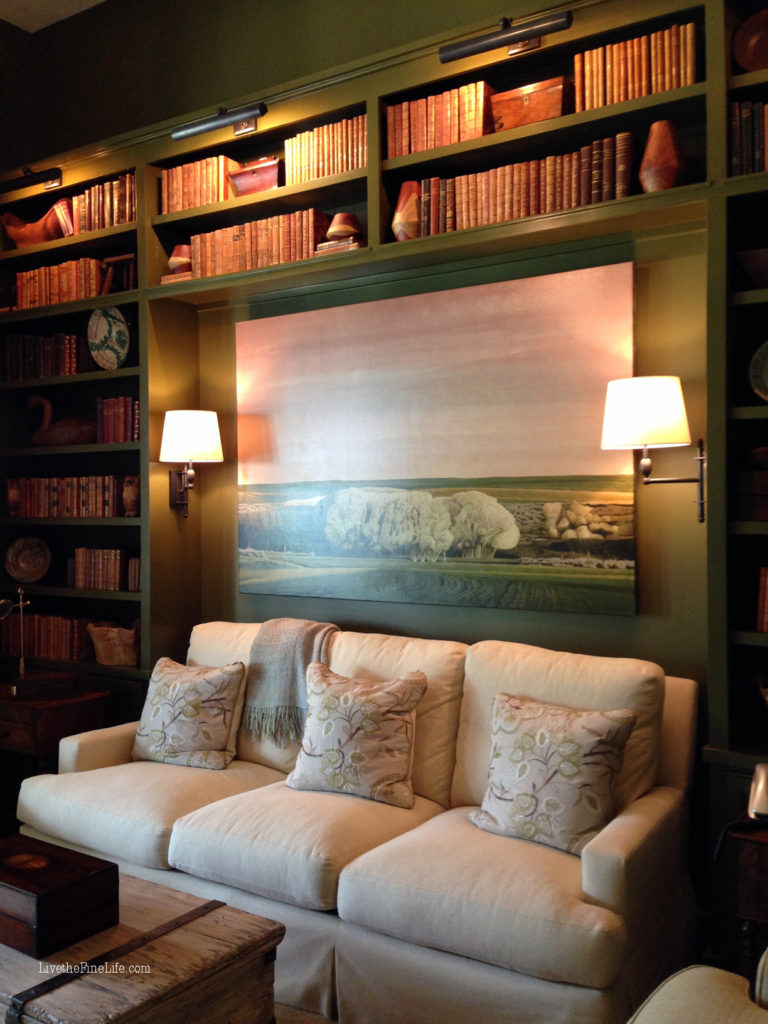 I think Phoebe Howard and Historical Concepts pulled off a phenomenal task in editing the plan to meet both the needs and codes for an Idea House and a B&B.  I've never tried to accomplish such a feat, so I admire and appreciate all the hard work and (wo)man hours the team put in to making it a reality.
When I say I could move right in, I mean it.  My one caveat is with the dining room would need to be beefed up in a major way.  It's tiny for a compound that sleeps 20.  Look on the floor plan.  It's there.
I am absolutely positive you have something negative to say about at least one element in this master suite, but I'm hoping you have lots of great takeaways for your own home.  I would say keep your opinions to yourself, but I don't, so why should you?  Good or bad, let's hash it out in the comment section!