Looking for a cultural escape?  Nashville's Cheekwood Botanical Gardens and Museum of Art created the perfect outing for you!  On Wednesday, Thursday and Friday nights, now through November 10, the former estate of the Cheek family, founders of "Good to the last drop" Maxwell House coffee, is featuring an incredible installation Light by British artist Bruce Munro, spread out over the property's immaculate 55 acres.
In 2010, Cheekwood brought the light to Nashville nights with an installation by glass art genius Dale Chihuly, an exhibit that's traveled the States.  It was so popular, Munro was commissioned to create something unique for both the grounds and museum.
The rolling hills of Tennessee are a beautiful backdrop for Water-Towers, a collection of 40 towers constructed of more than 10,000 one liter water bottles filled with water and fiber optics.  The towers are connected to an audio system and LED projectors, so the colors morph and change on pace with the music: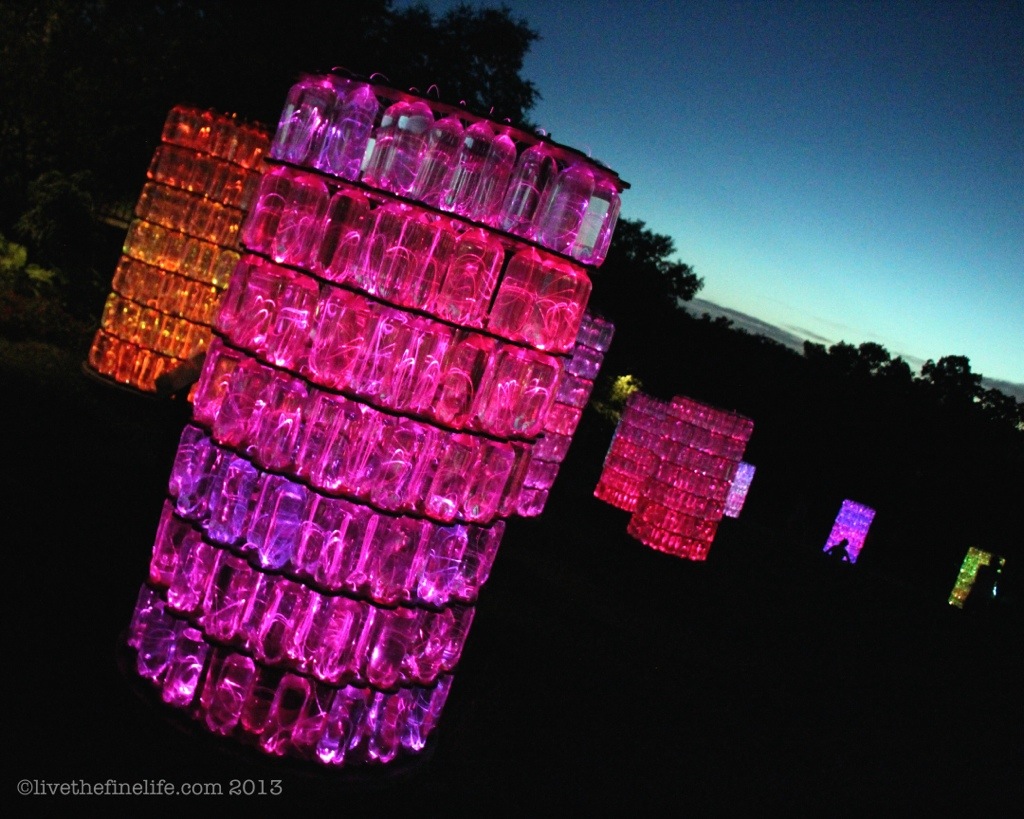 Like the chromatherapy many bathtub manufacturers offer, it's really quite relaxing to experience in person.
We made our first visit with the preschoolers and their great-grandparents in tow, so I handed my camera to my son.  Man, am I glad I did.  He has photo mojo: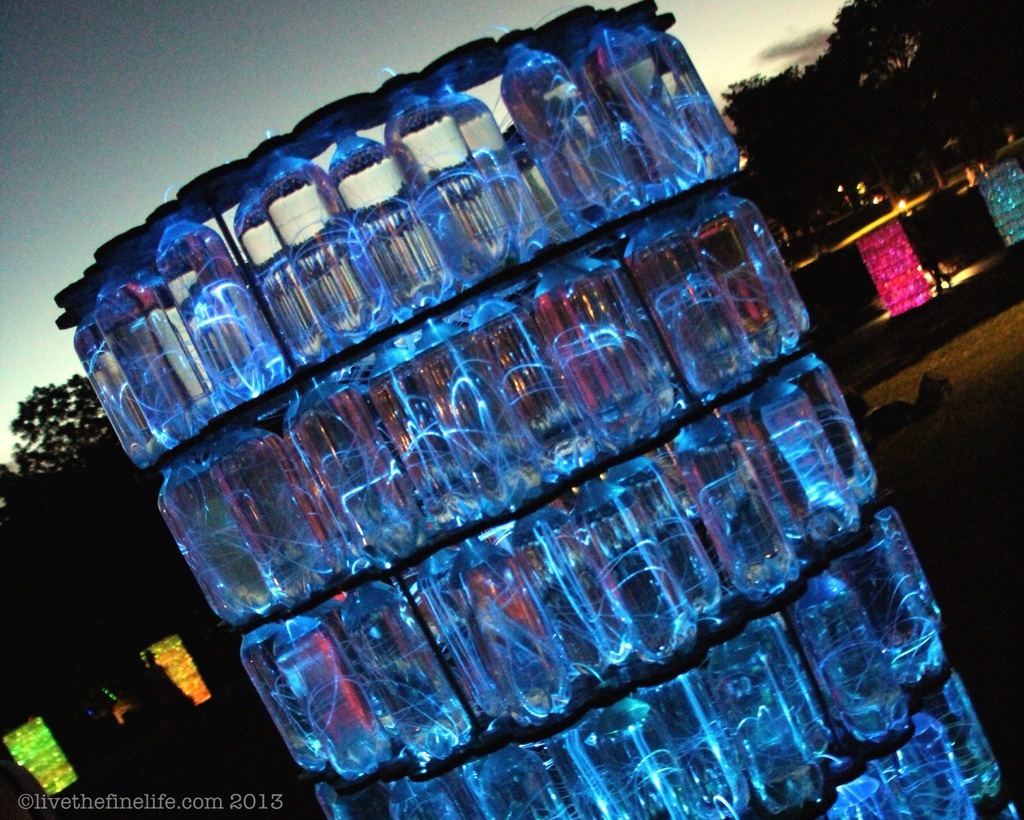 One of the many reasons I'm so impressed with Munro's light creations is his aim to not only use recycled and recyclable materials, he also plans to deconstruct and reuse them in future installations.  Smart.
Remember when fiber optic lamps were just a spray of cable – like the hair on a Chia pet – you could buy at Spencer's?  Yeah.  Me neither.  That's a lie.
Munro used 160 miles of fiber optic cable and 102 LED projectors in Light.  To give you a sense of the scale of this project, Blue Moon is 5′ in diameter: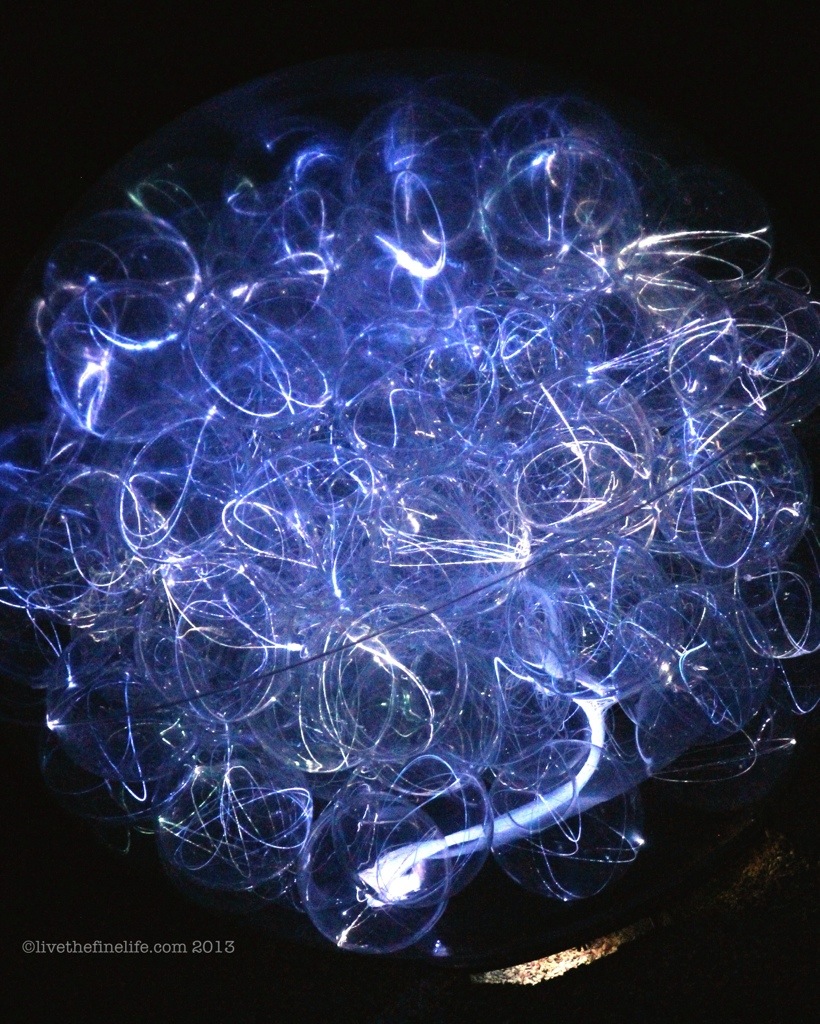 Light Reservation is a collection of spent fluorescent tubes assembled into tipi-like structures.  The tubes sit on the edge of a small lake, creating an exquisite dance between reality and reflection: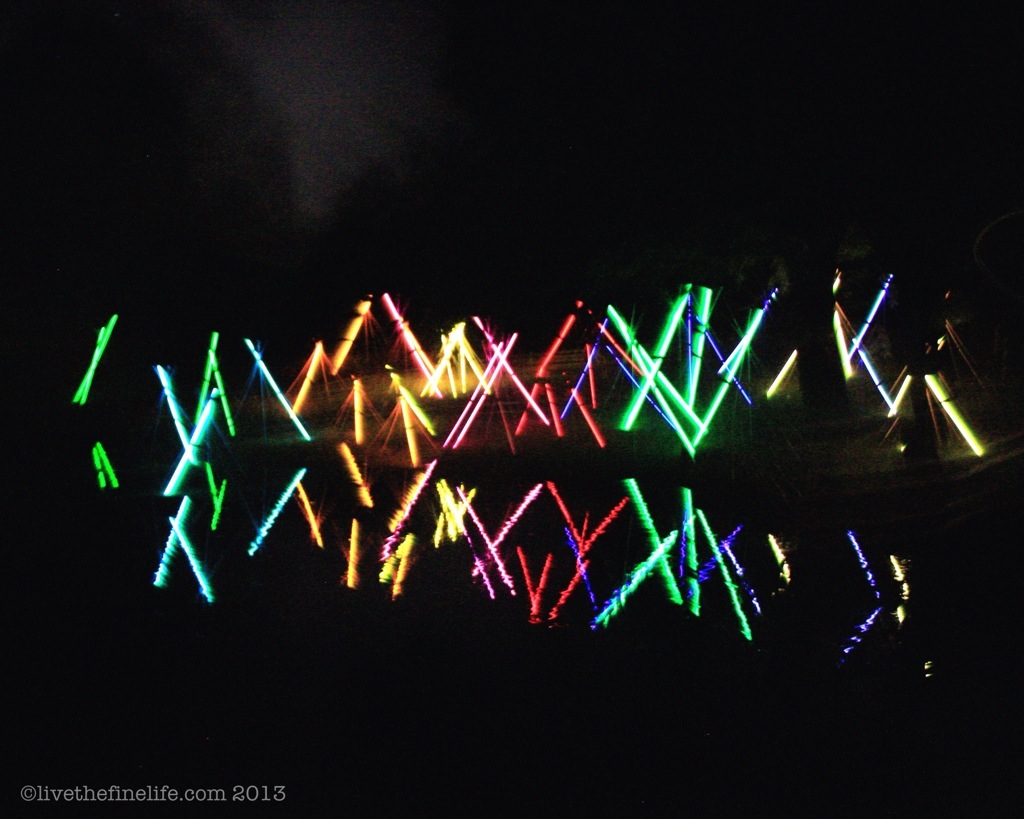 I am a notorious fluorescent lighting critic, so I found this particular piece intriguing. In describing Light Reservation, Munro says,
The installation is about my enthusiasm for the imagination; but I also hope that Light Reservation presents people with an opportunity to ponder both the good and the bad aspects of our recent history.
I'm so glad the trend in architecture and design theory is making a full circle back to the use of natural light in the built environment.  We work and live more productively that way.  Sun, good; fluorescent, bad.
Field of Light? Really good: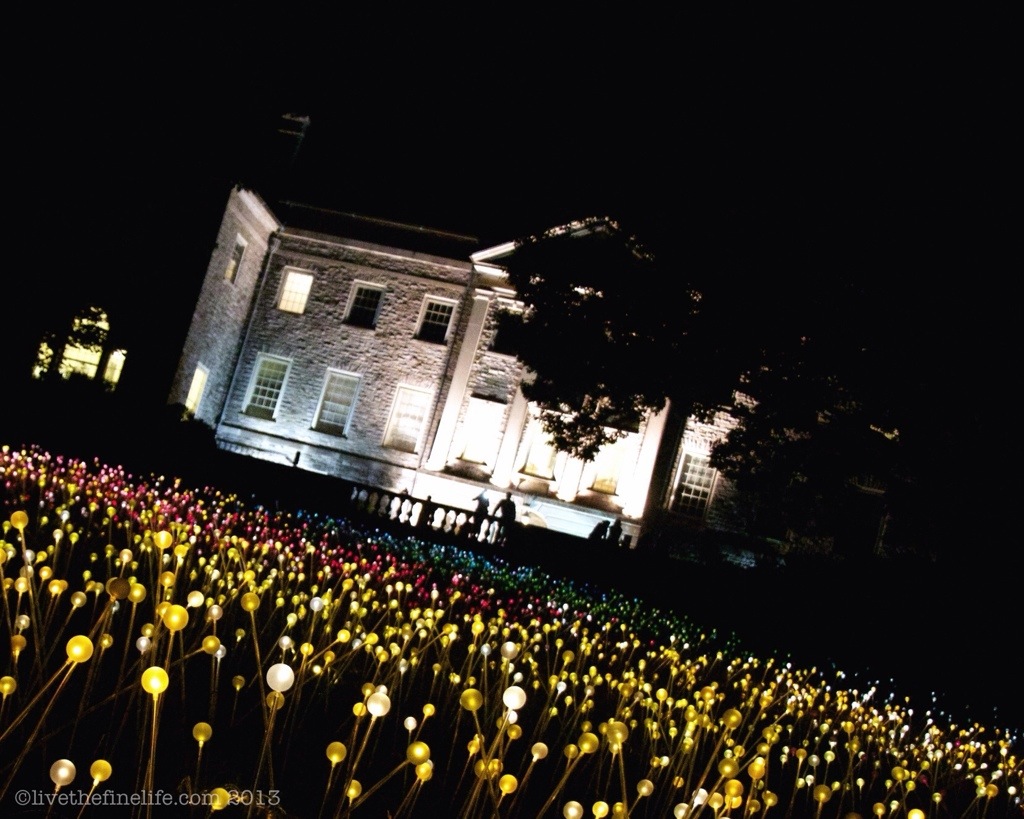 About Field of Light, a glorious yet simple collection of over 20,000 glass spheres mounted on stems and spread out around the mansion, Munro says:
It is a personal symbol for the good things in life.
Agreed!  It was getting late when we made the turn but, as the field came into view, to a person in our tired group of seven, a sense of awe manifested itself in near silence and renewed energy.
We headed into the mansion to see the rest of Bruce Munro's exhibit, where I found myself mesmerized by his Bell Drop Chandelier and my son's mad photography skills.  It was fun for me to upload the photos from my camera and see the chandy through his eyes: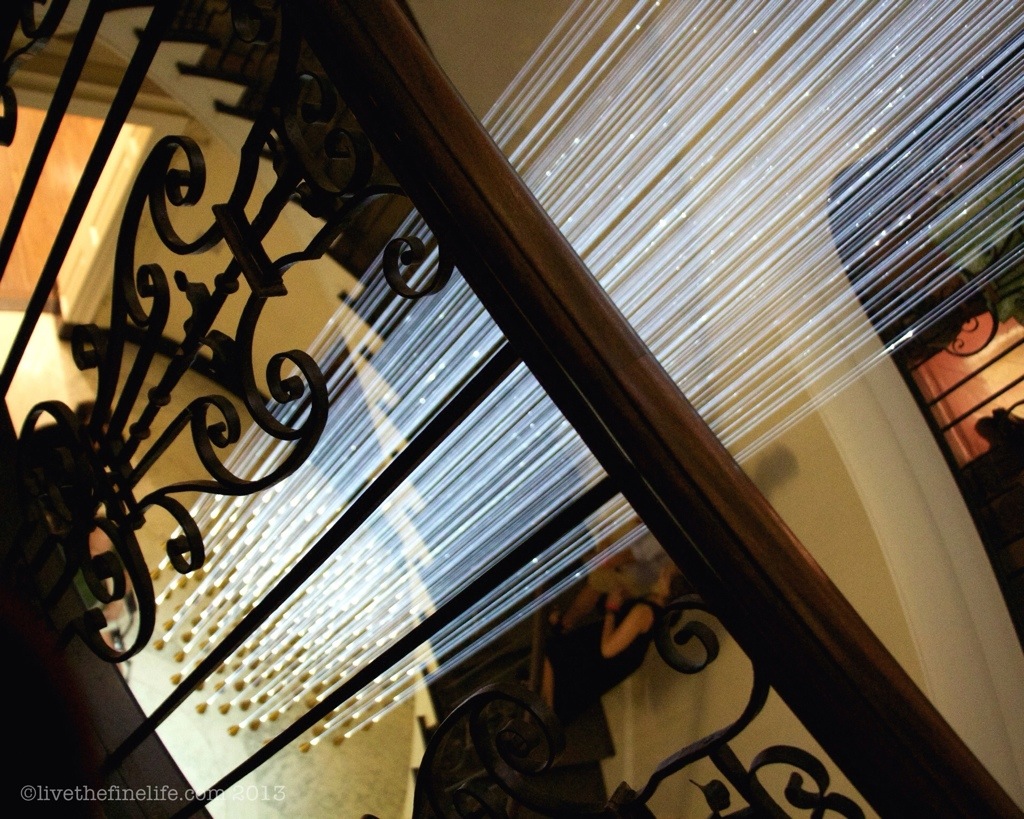 Sometimes, he reminds me of his mother.
The chandelier hangs in the Rotunda Staircase, a two-plus-story Georgian beauty with round clerestory windows and curvaceous wrought iron railing: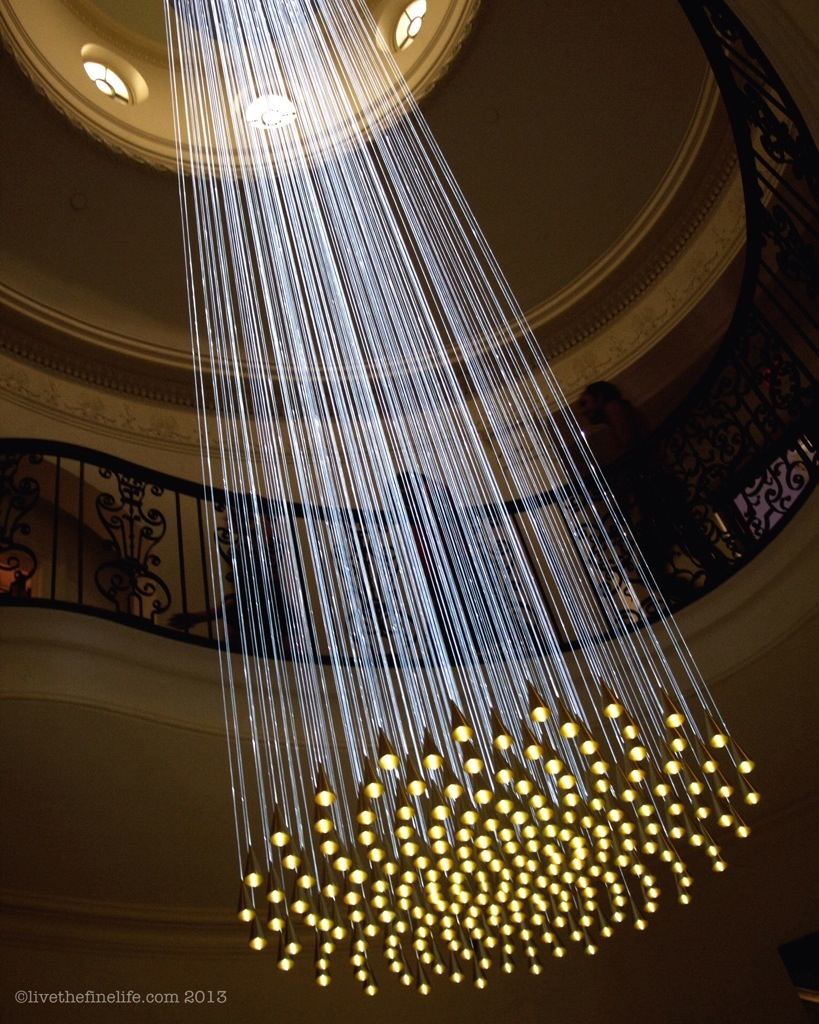 Terminating 7′ above the ground floor, the crystal laden Bell Drop Chandelier is a truly stunning fixture.
I want one.
I love the conical shape of the shades, as seen in this dramatic shot: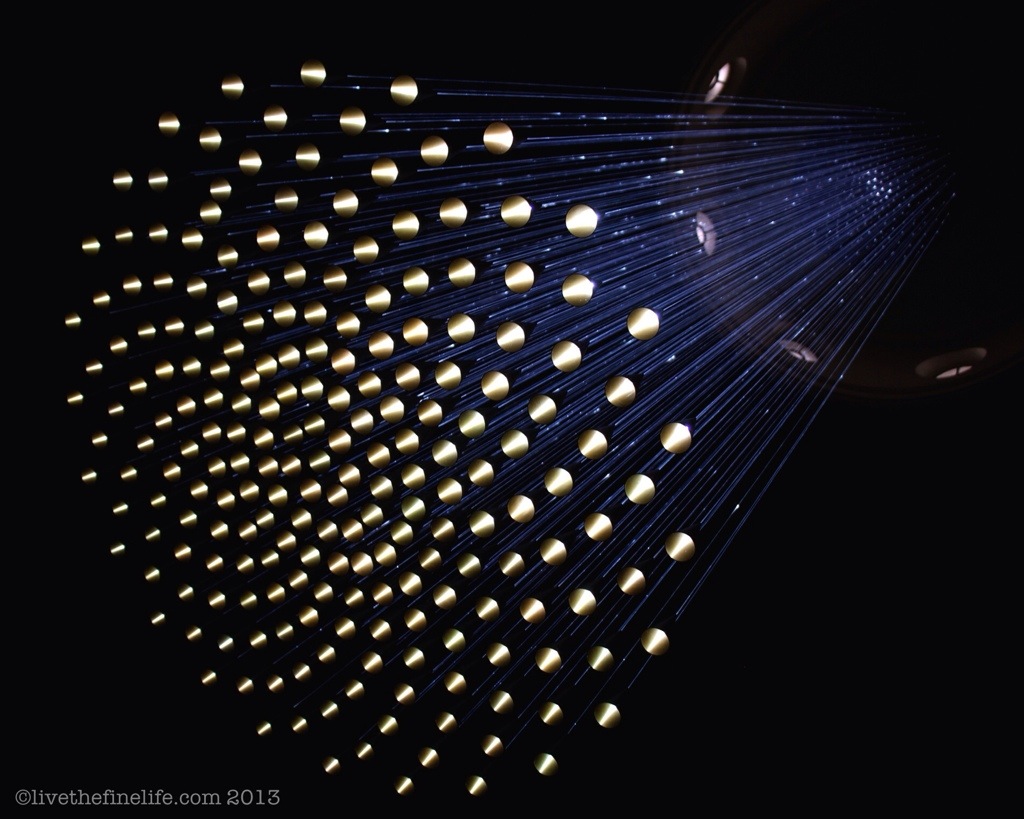 Goodness.  I should give him my camera all the time.
Friday nights exploring Light by Bruce Munro at Cheekwood are magic, with the soundtrack provided by some of Music City's most talented musicians, a cash bar, and fine dining in the Pineapple Room (reservations recommended) until 11pm.
Our crew spanned four generations, from 18 months to 72 years, and everyone had a favorite work.  I've only shared a small portion of the exhibit here.  There are 11 separate installations, the museum's permanent and temporary collections of fine and decorative arts, as well as the stunning 1932 Bryant Fleming designed Cheek mansion to explore.  There is beauty everywhere you turn!
Tips:
Wear comfortable, slip-proof shoes.
Load up on insect repellant.
Get there early and explore the Woodland Sculpture Trail. (Crawling Lady Hare by Sophie Ryder is a personal favorite.)
Bring a small flashlight.
Create and bring your own gourmet picnic or dine at the Pineapple Room.
Avoid notoriously long lines by purchasing tickets in advance:
Cheekwood Botanical Gardens and Museum of Art
1200 Forrest Park Drive
Nashville, TN 37205
615.356.8000