When I finally decided to hunker down and remodel my kitchen, it was with the knowledge that once that "can" was open, the "worms" were free to roam.  Getting one or two rooms in tip-top shape highlights the need to make repairs and updates in other areas.  It's a vicious cycle.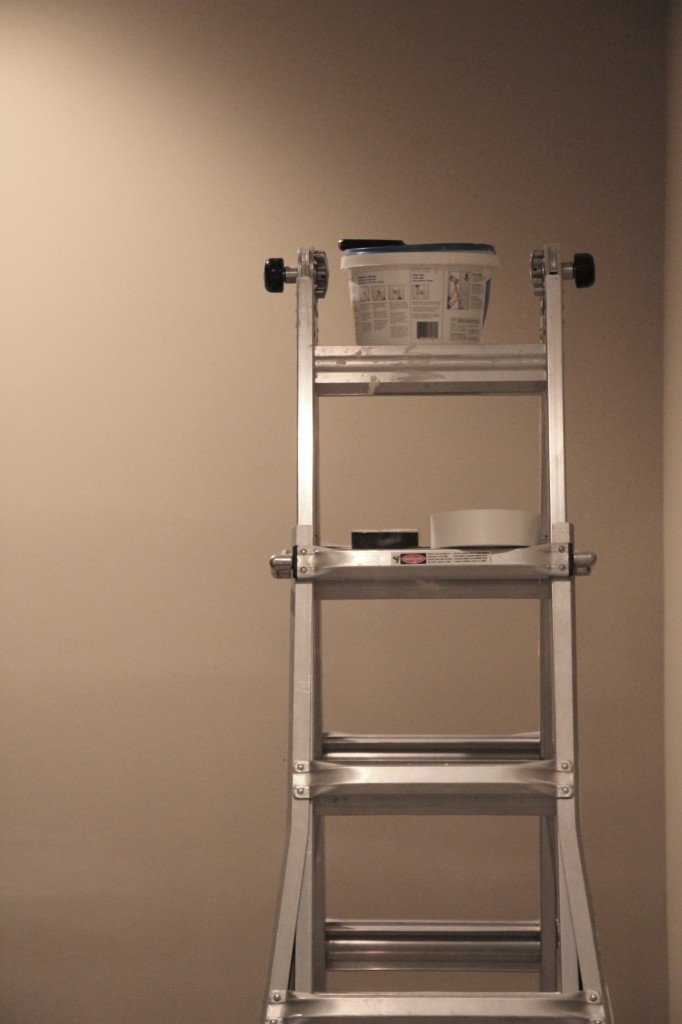 While my cohorts (Hubs and Son, Inc.) are building beautiful new doors for my cabinets, I've been relegated to repairing drywall.  On the ceiling.  This lead to a revelation: I never should've said a word about hanging my first 4 x 8 of Sheetrock® when I was 7.   
"You have the right to remain silent.  Anything you say can and will be used against you in a court of amateur remodelers."
Drywall dust is a beeatch.  It's one of the reasons I put off doing the work for so long.  Experience has taught me it takes 10 times longer to get rid of than it does to create.  It is one of my least favorite things.
My father is a Do-er.  He reads a book on a subject, then builds/creates/repairs it.  The upside for me was that he let me be his apprentice along the way.  As a kid, I learned how to time an engine, change oil and spark plugs, spot weld a circuit board, and yes, how to hang and finish drywall.  With nails.
Technology has changed so much, I'm not sure my car has spark plugs.  Actually, I'm not sure it has an engine. Under the hood, there is a box that ensures only the manufacturer's approved service centers are able to make any necessary repairs, rendering my timing skills obsolete.  At least I still had some drywall skills in my pocket.  Or so I thought.
Drywall is an art.  It takes a lot of patience and a light touch.  The true professionals earn their keep and are integral members of a top-notch construction crew.  They inhale copious amounts of gypsum dust, test the limits of the cervical spine and leave behind a perfect paint-ready surface.
After years of bragging about my experience, I realized it was time to put up or shut up.  I took a quick refresher course by perusing a couple of books I had lying around.  In order to save you time and trouble of doing the research, I decided to share 3 simple steps to making a professional quality ceiling repair:
Get a good job.

Hire a drywall pro.
Write him/her a check.
Seriously, after realizing I absorbed absolutely nothing from the text, I decided to hit up the interwebs.  With a little assistance from an Aussie – his charming accent is a bonus – via YouTube,  I discovered anyone can handle a minor ceiling repair with relative ease, even Moi.
I give you, in 3 short video steps, the best way to make a professional quality ceiling repair:
One:
Two:
Three:
See how easy it is, mate?
This Aussie's 3-step tutorial worked really well for me, helping to solve the conundrum of how to best repair a hole left from downsizing to a quieter, smaller bathroom exhaust fan.  (Props to Panasonic.)
Using his method to replace the missing drywall was easy, but mudding is tricky.  It is where patience and restraint are rewarded, so make the effort to do it right the first time.  Slow, steady and smooth wins the race.  Think of it like frosting a cake fondant-style over the course of 3 days and you'll be good to go.
Now I'm hungry.  For cake.
I hope this 3-step method comes in handy for your next repair job.  Do you use another method of repairing drywall ceilings?  Help educate the masses by sharing your experience in the comments below.  If you don't want to leave a comment, leave a cake.  On my doorstep.  Thanks!