One of my favorite paintings, Jan van Eyck's 1434 portrait of the marriage of Giovanni di Nicolao Arnolfini, has had art tongues wagging for centuries.  Is the bride pregnant or just fashionable?  Is the scene commemorating a happy event or was it painted In Memoriam?
Although there is much speculation about the true identity of all its subjects and the meaning of the iconography the artist chose to represent, one thing that's not disputed is the exceptional depiction of the interior design, especially the convex mirror in the background.
The mirror itself is extraordinary, the Passion of the Christ is portrayed in its frame, and some believe van Eyck painted a "Selfie" into the scene:
He would kill on Instagram! #alsichkan tweens.
Whatever you want to call them – bullseye, fisheye, convex, funhouse – antique or new, I'm drawn to mirrors that reflect a distorted view.  They aren't right in all design schemes, but it's great fun to use them when appropriate.
A few years ago, during a rare sans les enfants moment, my sister and I went upscale antiques hunting in her town.  I came across an exquisite, impractical convex sunburst mirror, but left the store with a pair of utilitarian chests instead.  I thought about that mirror for days, so I asked her to go get it for me.  By the time she got there, it was gone.  Bye.  Gone.  I've though about it over the years and every once in a while, I kick myself for being so darn pragmatic.
Anyway, my preference leans toward round, but in a recent project, I used Mitchell Gold + Bob Williams' Prescott rectangular floor mirror.  It has a bend around the edges that makes you look taller and thinner.  I love it.  It's light oak frame allows the full width and length of the mirror to shine:
Ever wonder why you always look better in Nordstrom-Bergdorf-Barneys dressing rooms?  High-end department stores and boutiques use visual trickery all the time by simply bending the edges of a mirror.  It's just one of the many ways they use design to entice you to make a purchase.  When one of them figures out how to make people look 20 years younger I'm pitching a tent and taking all my meetings there.
While trolling the interwebs for a unicorn double rainbow convex mirror for a dining room, I came across a few beauties I wanted to share with you.  Some are reasonably priced, and mass produced, while others are one of a kind.
First up, a few something-somethings from the Department of Antiquities department.  This gilded mirror is from England, circa 1890, and is adorned with acanthus leaves: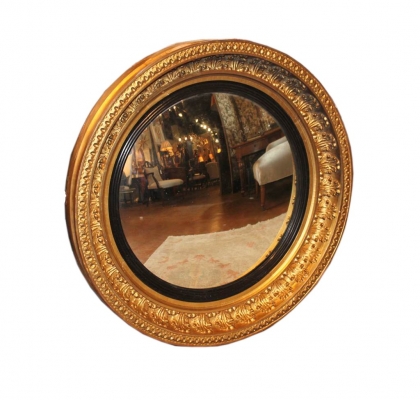 I'm a fan.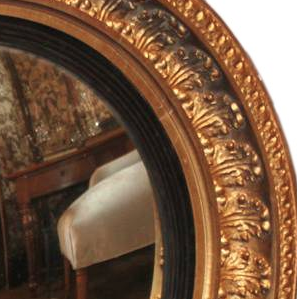 The next mirror is also English, but is a 19th century baby: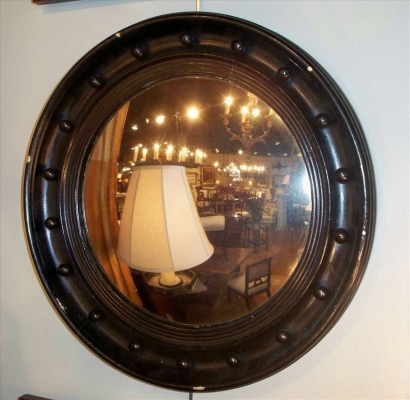 It's has a few dings in the frame that add character.  If this was an American Federal mirror, it would most likely have 13 ball studs representing the 13 colonies.  This mirror has 18.  I honestly have no idea why.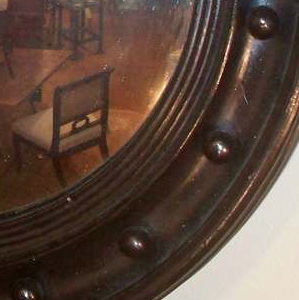 Like a bit Italian style in your interiors?  Try this circa 1800s' circle: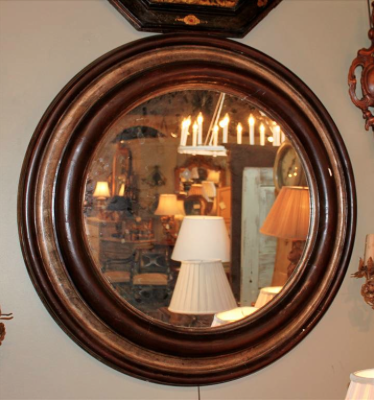 It's nicely sized at 34″.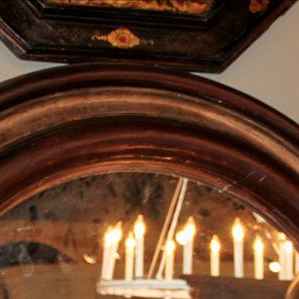 And now for something completely different and totally fun, I present you with a beaded wire frame: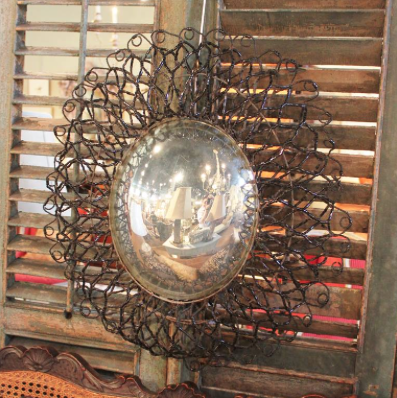 This piece is as much yesterday as it is today.  It's not exactly 30″ round anymore, but that just helps to make it unique.  I'm unsure of its provenance, but  know where you can buy it right now.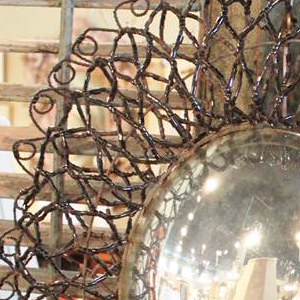 Beads, wire, complex convexness. What's not to love?
If you want more information on one of the mirrors above, email me and I'll hook you up.
After trolling through the antiques section, I hit the Some People Like to Buy New Department and came across a few of gems.  The first option is a close cousin to the antique beaded mirror.  It makes me wonder if the designer based it on a vintage piece: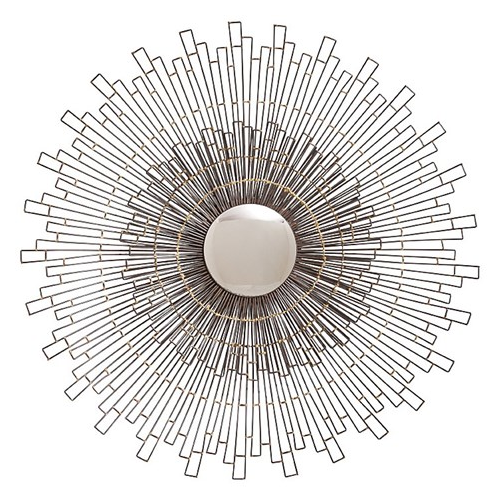 Everything old is new again.  It's from perennial designer fave for all things fabulous, Arteriors.
I found it at one of the Internet's happy places, Zinc Door.
Somethings are better when hung together.  This curvy grouping makes me exceedingly happy at the moment: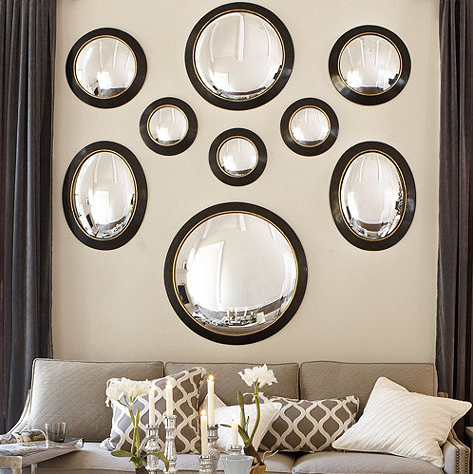 That moment is over, but it didn't have to be.
The only rule you need to keep in mind when using mirror is that it should always reflect one of two things: something beautiful or a source of light, whether from a window or a fixture.  I think Ballard missed the boat just a smidgen with this photo set, because all I see is beigeness reflected in their good looking, paired down, very affordable Alastair: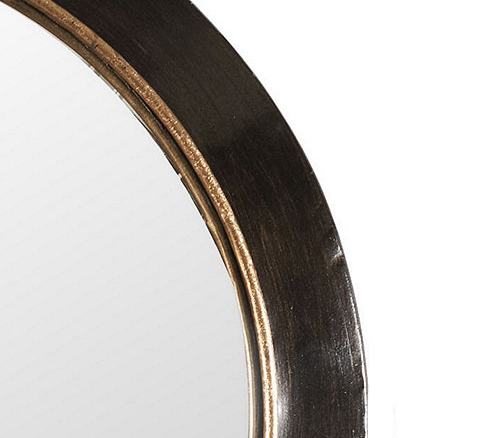 Hang some pretty between your windows if you decide to give a mirror a home, that's all I'm saying.
Finally, in a nod to the starburst beauty that slipped away due to a wicked bout of indecisiveness, I present a burst of loveliness: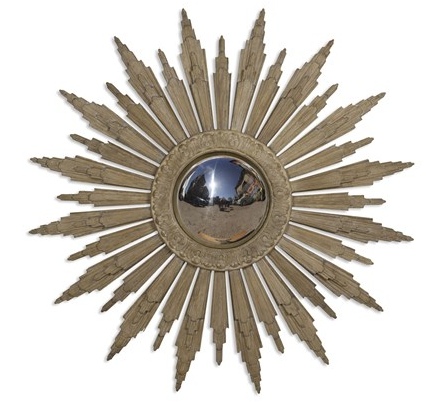 The Solstice mirror is from Currey & Co. – bury me dressed in products from their catalog! – and is available through your designer or Layla Grace.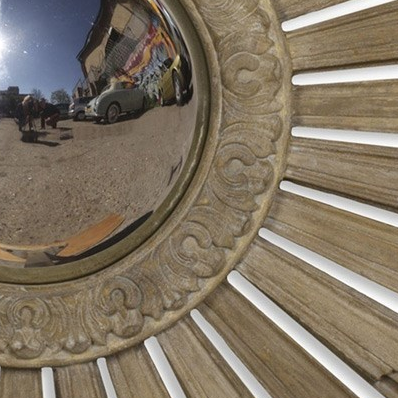 At a diameter of 64″, the frame's surface area is large.  I love that the photographer, her assistant and an actual sunburst can be seen in the reflection, much like in The Arnolfini Portrait.  (I'm also crushing on the vintage ride with the white wall tires.)
I know these mirrors don't come cheap, but I'm sure if you're crafty NASA-style, you could make one.  It's a complicated process, so to smooth the path, I provided the mathematical equation for you:
Never mind.
Sometimes, you have to appreciate the fact that there is a whole world of things you don't need to know.  Free up intracranial RAM by letting this one go, trusting the experts, appreciating the art form and concentrating on where you're going to hang one of these beauties.  Just make sure it reflects something beautiful, like YOU!
I would love to hear your distorted thoughts on convex-fisheye-bullseye mirrors.  Get the conversation started by leaving a comment below!