I have avoidance issues.
There I said it, owned it, released it into the ether.  Buh-bye.  Don't let the screen door hit you where the good Lord split you.
After dancing around the arduous task of remodeling my kitchen for the better part of a year, the serious work has begun.  I know.  It's sad that it's taken me so long, but I wanted to save money by doing the work myself – with some much appreciated assistance from the family, of course – and for the next few weeks it will be the focus of 89% of our attention.  Somebody has to watch House of Cards Independent Lens.
I hope you spent Memorial Day remembering loved ones, enjoying the weather, your family and friends.  I spent it bidding a not-so-fond farewell to a billion square feet of expensive hand screened wallpaper, circa 1996.   It's irritated me so much over the last few years, I have held back on entertaining both old and new friends.  It's appearance held me back from completing the redesign, too.  Dumb and dumber.
This is the offending paper: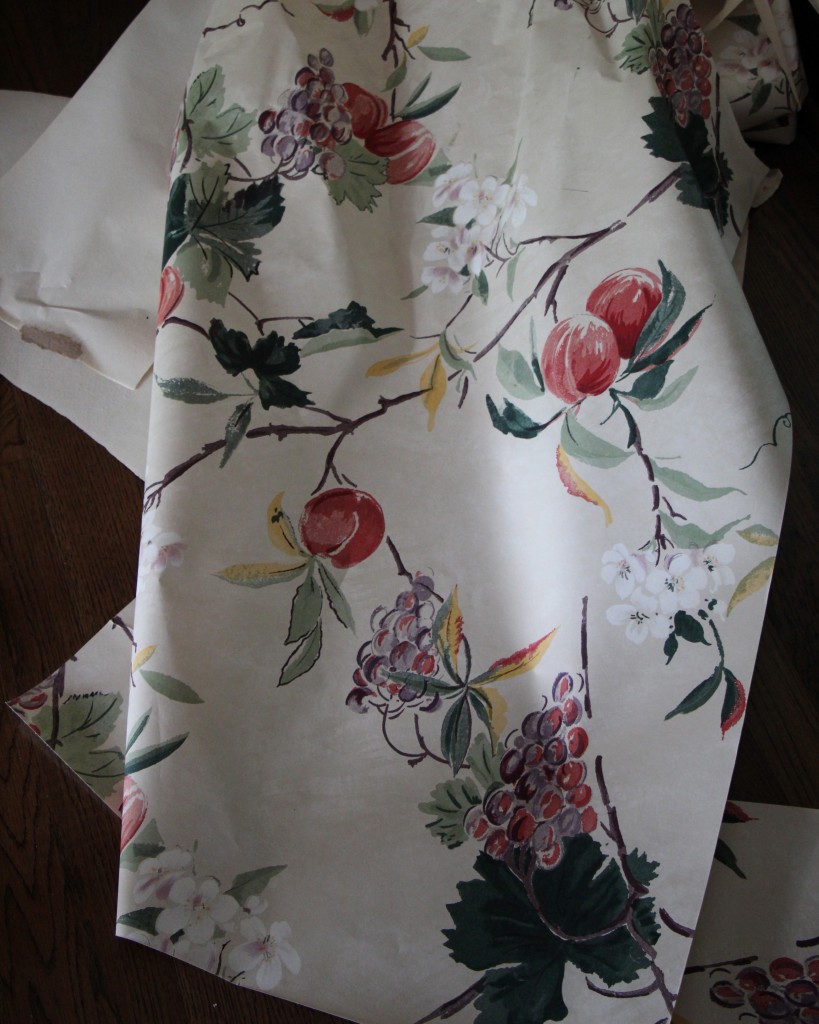 Erp.  Fruit.  Stop me from judging me, y'all.  Remember, I wasn't a designer back then, I hired a team of professionals and eventually grew a deep dislike for all that  muchness.  My tastes are decidedly more streamlined now.
I spot tested removing it last fall, it's a good sized kitchen, so I knew it wasn't going to be a speedy task.  The face of the paper came off very easily, but the backing stayed put.  Cue Me vs. Adhesives 2013.  It should be a pay-per-view event.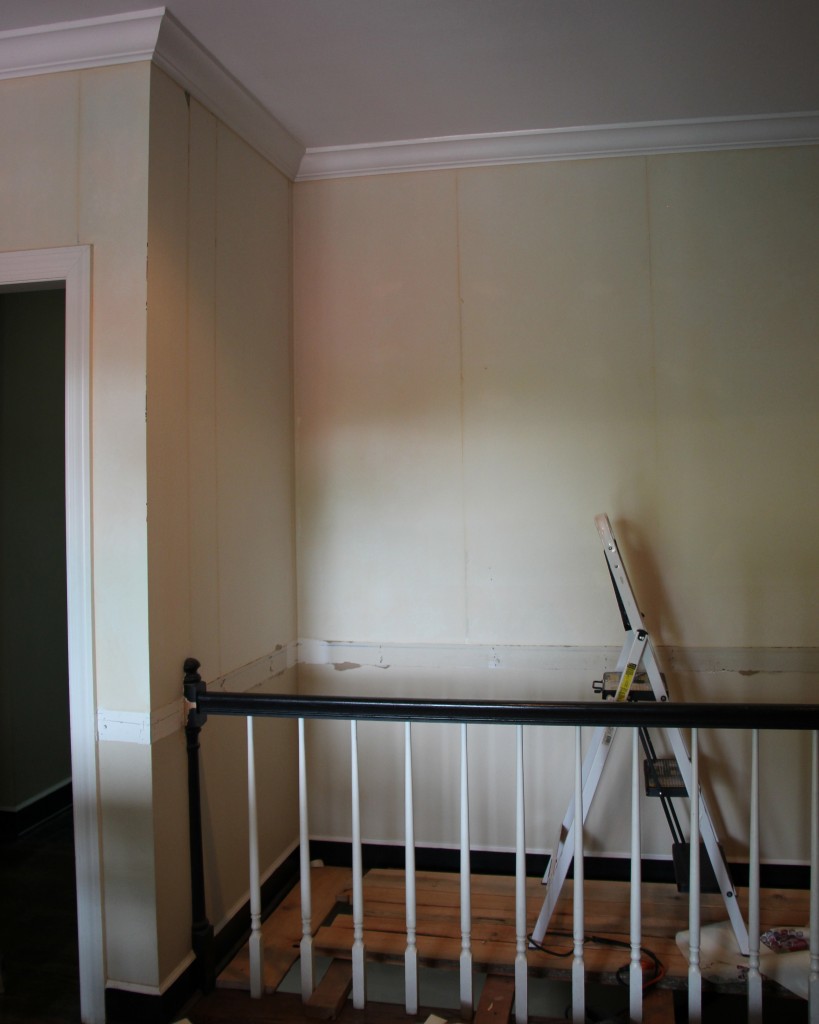 Gone is the last of the heinous chair rail, original to the house and the 1980's railing needs to go too.
The largest expanse of paper ran across the top of a staircase.  We rigged up some crazy a$$ scaffolding, mixed it with a ladder (and later, some beer) and got to work using a 70-30 mixture of hot water and fabric softener.  After I saw how well it dissolves glue, I questioned the wisdom of using it in my laundry.
Whatever.  Stripping wallpaper burns 100 calories every 30 minutes – I bet that's equal to stripping stripping – so I'm good with it.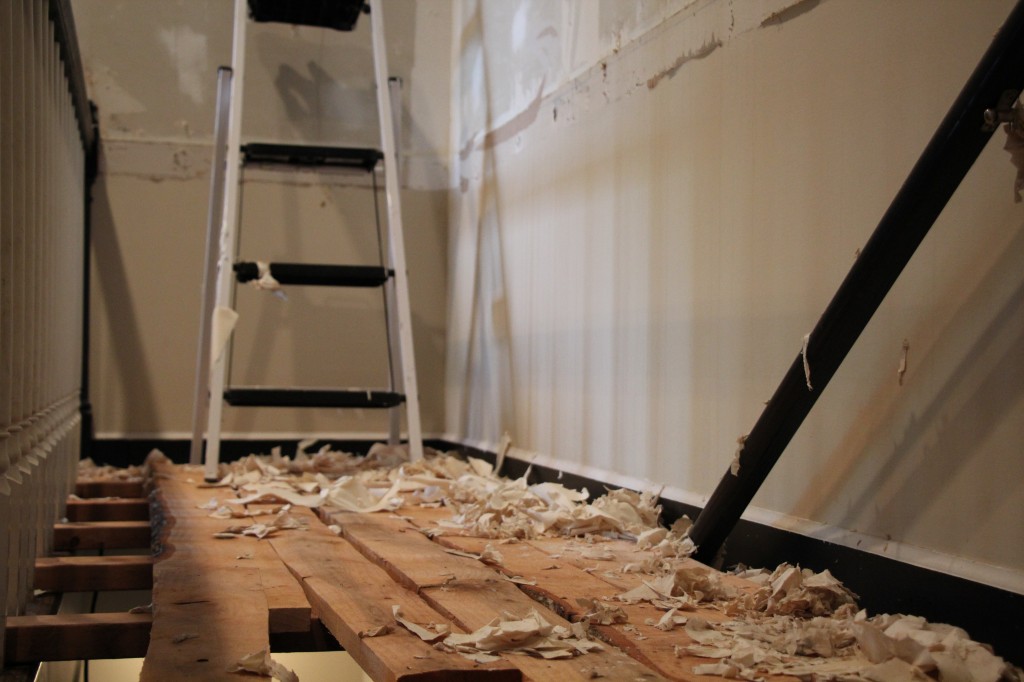 Experiential advice: Have patience; prepare for yourself and your floors to be a little icky and sticky; spray the mixture on; let it sit for a few; rock that putty knife.  It's a snap.
I found beauty in what remained.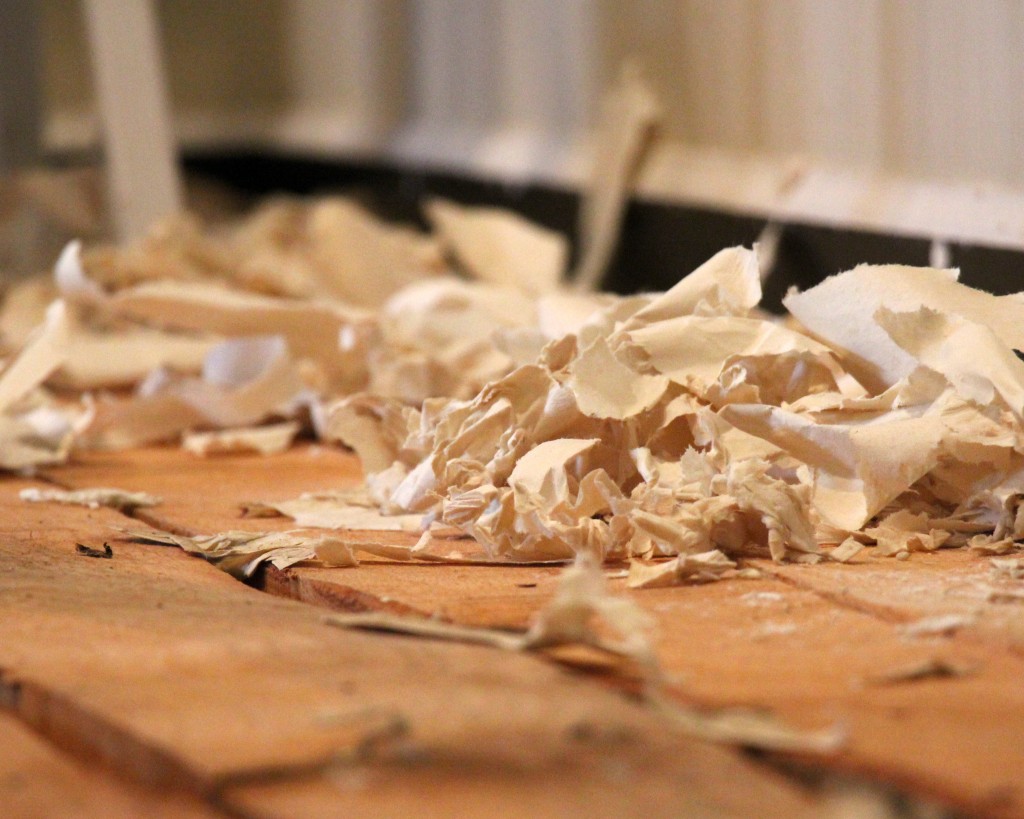 The fuzzy texture was amazeballs.
Anywho, today's mission is to remove the residual glue with soap and water, patch and skim coat the walls, and remove an even more offending – it's possible! – cabinet that we are going to deconstruct and reconfigure.
I'm looking forward to the next phase so hard, I'm heading toward full on giddiness.  My cabinets are white, so imagine how obnoxious I'll be when the last phase is complete; when the floors are refinished and everything is wearing a fresh coat of fingerprint free low VOC paint.
As we dive into more cosmetic and structural changes, I thought I'd take a minute to share some photos of other designers' work I've kept on hand for inspiration.
Michelle Workman nailed sparkle and diva glamour with this blue and white space she designed for Jennifer Lopez:
Le sigh.  The range is La Cornue's 43″ CornuFe 110.  It retails for $8600.00.
I really like the lines and mix of materials in this contemporary kitchen from Fifth Element Design:
It's compact and complete.
Here is some relaxed beauty from Rebecca Reynolds of New Canaan Kitchens:
Wood and white make me happy.
I don't know who designed this kitchen, I found it on Pinterest eons ago – before they wizened up and linked back to websites, i.e. beta test phase – but I'd like to give a shout out anyway:
Something like that would work well with the architecture of my house.  My kitchen has many similar elements already.
In looking through my files, I thought I'd saved a photo of the same kitchen twice, but I didn't.  I don't know who designed what first – chicken, meet egg –but this beauty from Martha O'Hara is similar to the one above:
It's apparent what direction I'm heading in with this design.  Planning how to get the feel I want within the constraints of my budget and the existing space is equally daunting and exciting.  Designers have emotional issues when it comes to their own spaces, just like everyone else. Your home says so much about who you are.  The only difference between us is we are trying to find the balance when presenting our work and creating our home, because they are one.
I'm off to remove the doors from The Cabinet I Despise, then pack up all it's contents so it can be removed.  I hope fixing what remains is an easy task.  I'm not quite sure what I'll find behind it, so wish me luck!
Wallpaper: I'm almost over it, personally.  How about you?   Love it, hate it, torn?  Head to the comment section and let me know how you feel about it and which one of these kitchens is your favorite.