I'd heard that Blog Tours always contain a few special treats, and the Cologne trip was no exception. One of our sponsors, Mr. Steam, thought that after three days of walking the nearly 1,000,000 square feet of Koelnmesse, we might need some R & R. It was a genius idea!
They graciously hooked us up at luxury spa Claudius Therme. I've long been a fan of pools, steam rooms and saunas, so it was a delight to visit this European retreat, as they take whole health very seriously.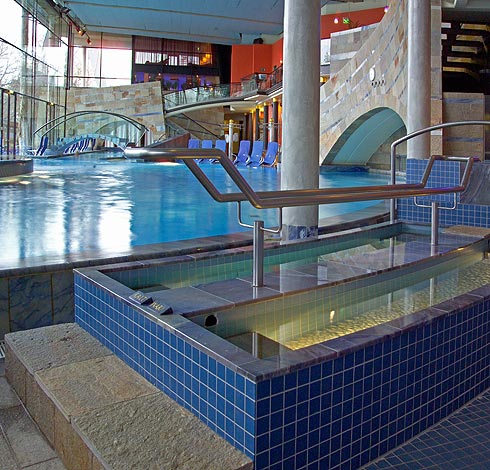 Before we get into our robes, take a moment to get to know the rest of the Blog Tour Cologne. Fellow designer Courtney Price put together a look book, where you can put faces with names and blogs. Meet the bloggers.
Great bunch, right?
Mr., and Mrs. Steam, aka VP of Marketing Martha Orellana, wanted us to have a relaxing evening and enjoy the benefits of steam therapy first hand and, from the looks of this of this illicitly gained photo–no cameras or phones are allowed in the spa–from our dinner, relax and enjoy we did!
They also wanted to introduce us to their Steam at Home system. It allows you to experience the many benefits of steam therapy whenever you want, in the comfort of your own home. As a Baby Boomer and spa aficionado, I know that steam can help shorten a post-workout recovery and I love what it does for my skin.
Like at a gym, I shared the steam room at Claudius Therme with strangers. It would be incredible to have this luxury feature available in the privacy of my own home, whenever I want.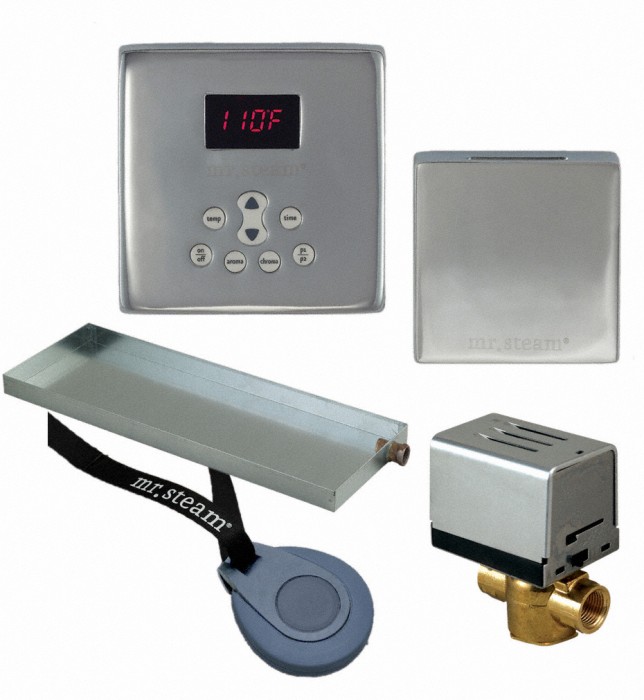 "Steam may help relieve tired muscles as warmth penetrates the body. Warm moisture opens the pores of your skin, leaving it softer and more supple. Perspiration during steambathing may remove impurities from your body. Improved breathing and a sense of cleanliness contribute to a feeling of wellness and fitness."  — Mr. Steam
Um…yes, please!
As you can see in the photo below, Mr. Steam's generator is small and fits neatly between studs, making it ideal for both new construction and remodeling. Add in some essential oils–Eucalyptus is my fave–and you're good to go!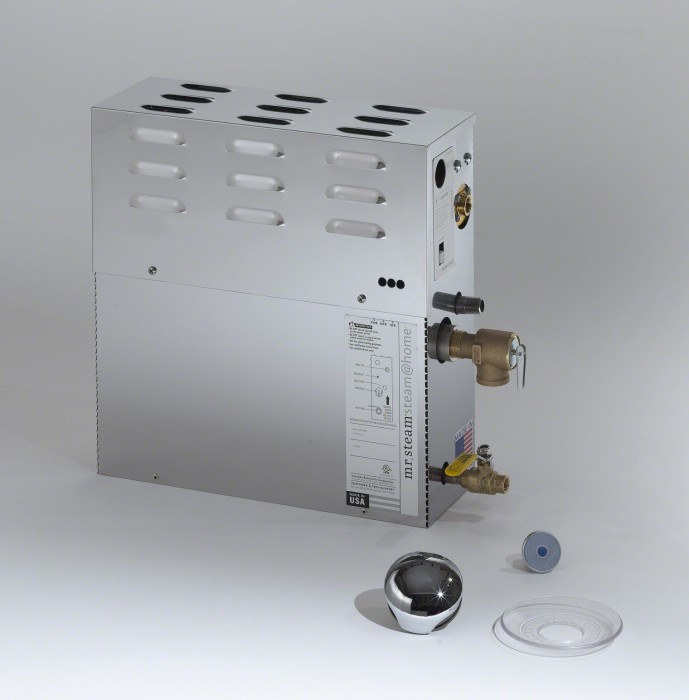 Design tips:
✣ When creating a home spa you need to make sure that the shower enclosure is tightly sealed.
✣ Tile the walls, floor and ceiling for ease of maintenance and to inhibit the growth of mold.
✣ Make sure the seal on your door stays in good shape to prevent leakage.
In bathroom design, it's always good to be aware that many fixture and fitting components come separately. Mr. Steam makes it easy for your designer to calculate exactly what you need, taking out any of the guess work or add-ons. I priced out my own shower and it was surprisingly affordable!
Mr. Steam also specializes in towel warmers, another of my favorite bathroom features. There's nothing quite like grabbing a warm towel post-shower, especially in winter. Whether they are hard-wired or heated with water, I've found that towel warmers are a great addition to bathrooms at every price point.
The bronze in this tropical-style bathroom is gorgeous: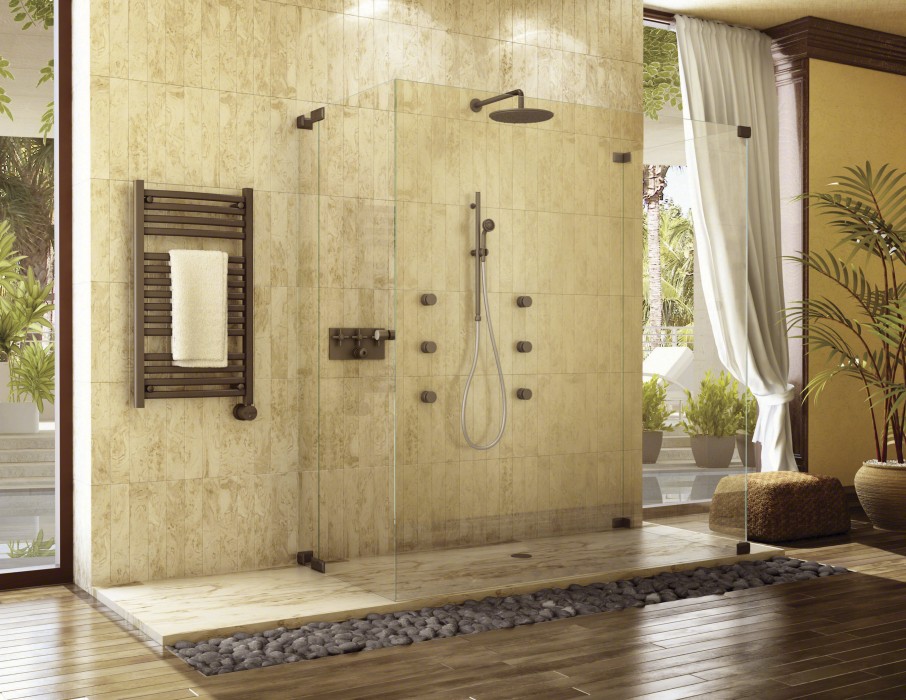 While polished chrome is the perfect fit for this beautiful blue cottage bath:
Blog Tour landed in Germany the day before a major snowstorm hit Europe. After testing our mettle slipping on ice covered sidewalks and pounding miles of show floor, the chance to relax and recuperate was a welcome respite.
After enjoying the facilities at Claudius Therme, I sat in one of their outdoor pavilions and watched a group of rabbits frolic in the snow in a moment of pure joy. Between the spa treatment, the good company and the great food it was an evening I will never forget.
Ein herzliches Dankeschön!

We had a blast!